Born from the Doge, BitcoinCEO Devotes itself to Helping Stray Dogs from Around the World
BitcoinCEO is a pre-eminent cryptocurrency project that aspires to aid stray and underfed dogs through the combined power of the community and blockchain technology.
SINGAPORE, SINGAPORE , March 21, 2023 (GLOBE NEWSWIRE) -- Crypto enthusiasts are always in search of new and exciting coins to invest in. The advent of the doge meme coin in the crypto space was one of the most memorable listings ever. Dogecoin took the entire crypto sector by storm. To further the legacy of the dogecoin, another meme coin, BitcoinCEO has been introduced. Despite it originated from a meme coin, BitcoinCEO intends to play a more important role in the community.
According to statistics issued by the World Health Organization (WHO), there are almost 200 million stray dogs in the world right now that are struggling to stay alive in their harsh surroundings. Not only this but innumerable pet dogs are also subjected to utmost cruelty.
A Quick Look at BitcoinCEO
Great changes can be made by working together as a community. With this thought in mind, BitcoinCEO aspires to feed and help dogs from all over the globe. The project combines the power of Blockchain technology and the strength of the community to achieve this end. BitcoinCEO serves as a communication bridge between dog owners, crypto enthusiasts, and charities.

Tokenomics
The project has deployed its token, $BTCEO on the Binance Smart Chain (BSC). The total supply of $BTCEO is 21,000,000 out of which 30% has been allocated for the presale, 15.465% for marketing, 14.535% for liquidity, 10% for farm constructions, 10% for CEX listings, 5% for charities, 5%  for shop rewards, 5% for development, and the remaining 5% for the team.
To facilitate seamless trading and to prevent traders from getting crushed under the burden of taxes, BitcoinCEO imposes a very small tax on transactions. The buy and sale tax has been fixed at 5%.
How BitcoinCEO Helps Dogs?
A small fragment of the fee collected on every transaction of $BTCEO is directed toward dog shelters and rescue organizations throughout the globe. The project also plans on setting up events and seminars to improvise the level of concern shown towards dogs.
In the forthcoming times, BitcoinCEO will deploy newer versions of the platform that will allow dog owners, charities, and enthusiasts to come together, interact and work in close association for the well-being of these cute creatures. Being a blockchain-based project gives BitcoinCEO the attributes of being safe, secure, and transparent at all levels.
The platform will allow charities to initiate fund-raising campaigns. Funds generated will be used by the NGOs to purchase rations for the underfed dogs. To remove any suspicions regarding improper utilization of the donations, BitcoinCEO will regularly update donors with information about the usage of the funds.
BitcoinCEO intends to build farmhouses where shelter is offered for stray and underfed dogs. These farmhouses will be built in poor countries that lack the necessary resources to do this job themselves.
Recreational activities are vital not only for humans but also for animals. For this purpose, BitcoinCEO has planned annual entertainment-filled events where both the owners and their pet dogs can get their hands on exciting gifts.
NFTs and the Metaverse are rising in popularity. BitcoinCEO taps into these innovations by introducing a gallery of dog NFTs. The Metaverse will also be home to one of the company's charity offices.
BitcoinCEO is committed to rescuing dogs that are bearing harsh living conditions. The project intends to create NFTs of the first 150 dogs that will be rescued. These digital assets will be floated in the open market for bidding. The dog NFTs will be of limited edition and holders will receive numerous benefits.
BitcoinCEO has a decentralized protocol that upon deployment will reward its most active users. This means that when a community member decides to chip into the fundraising campaigns, they will receive incentives in the form of tokens and NFTs. Donating to charity events will also help users in leveling up. This in turn opens the door to many advantages.
Final Words
Individuals viewing BitcoinCEO as just a meme coin need to rejig their views. The project is out there with a mission which is to instill compassion in human hearts toward dogs.
Furthermore, potential investors and individuals interested in BitcoinCEO can visit the project's official website, or read their whitepaper to get more details.
If you are interested in joining the BitcoinCEO community and supporting its vision, follow them on their social media channels:
Disclaimer:
The information provided in this release is not investment advice, financial advice, or trading advice. It is recommended that you practice due diligence (including consultation with a professional financial advisor) before investing or trading securities and cryptocurrency.

Ryan Hayes

BitcoinCEO

info at bitcoinceo.dog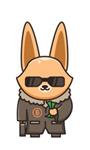 Source: BitcoinCEO
Globe Newswire
,
Press Releases
Related Entities
Twitter
Sign up for StreetInsider Free!
Receive full access to all new and archived articles, unlimited portfolio tracking, e-mail alerts, custom newswires and RSS feeds - and more!