Apple (AAPL) 'spectacularly' failed to develop its own silicon chip - WSJ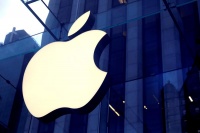 Apple (NASDAQ: AAPL) has failed in developing its own silicon chip that would allow it to cut its partnership with Qualcomm (NASDAQ: QCOM), a report in the WSJ noted.
The new iPhone models launched recently lack a proprietary silicon chip that Apple had invested significant time and resources in developing.
This initiative, initiated by Apple's CEO Tim Cook in 2018, aimed to design and produce a modem chip, responsible for connecting iPhones to wireless carriers, with the objective of reducing Apple's dependence on Qualcomm, a dominant chip supplier in the modem market.
However, the challenges faced in completing this chip project were primarily due to Apple's own decisions, the WSJ report notes citing former company engineers and executives familiar with the project.
The chip was initially intended to be included in the new iPhone models, but testing in late 2022 revealed issues such as slow performance and overheating. Moreover, the chip's physical size was so large that it would occupy half of an iPhone's space, rendering it impractical for use.
Investors had anticipated cost savings from an in-house chip, especially in the face of sluggish demand in the broader smartphone market. Nonetheless, Apple is estimated to have paid Qualcomm over $7.2 billion for chips in the previous year.
Engineering teams working on Apple's modem chip faced various challenges, including technical hurdles, poor communication, and managerial disagreements over whether to design the chips internally or procure them externally.
"Just because Apple builds the best silicon on the planet, it's ridiculous to think that they could also build a modem," the former Apple wireless director Jaydeep Ranade, told WSJ.
Apple executives gained a clearer understanding of the project's challenges when the company tested its modem chip prototypes in late 2022. The results of these tests were far from satisfactory, according to WSJ, as the tested chips were found to be lagging behind Qualcomm's top-performing modem chip by approximately three years in terms of technological advancement and capabilities.
Earlier this month, Qualcomm announced it will continue to supply Apple with iPhone 5G modems until 2026.
By Senad Karaahmetovic
General News
,
Hot List
Related Entities
Senad Karaahmetovic
Sign up for StreetInsider Free!
Receive full access to all new and archived articles, unlimited portfolio tracking, e-mail alerts, custom newswires and RSS feeds - and more!