Tesla (TSLA) Misses Q2 EPS by 14c, Expects to produce 50-55k Model 3s in Q3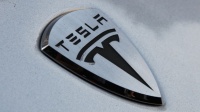 ---
Get instant alerts when news breaks on your stocks. Claim your 1-week free trial to StreetInsider Premium here.
---
(Updated - August 1, 2018 4:10 PM EDT)
Tesla (NASDAQ: TSLA) reported Q2 EPS of ($3.06), $0.14 worse than the analyst estimate of ($2.92). Revenue for the quarter came in at $4 billion versus the consensus estimate of $3.92 billion.
Q2 Automotive gross margin increased to 20.6% GAAP and 21.0% non-GAAP
Model 3 gross margin turned slightly positive in Q2, expecting roughly 15% in Q3
Expecting to produce 50-55k Model 3s in Q3; deliveries should exceed that
Major cost restructuring executed in Q2
$2.2B of cash and cash equivalents at Q2-end, expected to grow in Q3 and Q4
Capex projection in 2018 adjusted to <$2.5B
Now that we have reached a production rate of 5,000 Model 3 vehicles per week, we are focused on further ramping production, and achieving profitability and continuous cost efficiencies. We expect to produce 50,000 to 55,000 Model 3 vehicles in Q3, which will represent an increase of 75% to 92% from the prior quarter. Deliveries should outpace production in Q3 as our delivery system stabilizes. Model 3 gross margin should grow significantly to approximately 15% in Q3 and to approximately 20% in Q4 predominantly due to continued reduction in manufacturing costs and to some extent an improving mix. Average selling price will remain high for several quarters as we expect a richer mix in the initial wave of Model 3 deliveries to Europe and APAC. We believe future Model 3 cost savings will more than offset the normalization of the Model 3 average selling price in the second half of 2019, resulting in improving gross margins and stable gross profit per vehicle.
Model S and Model X deliveries should accelerate in the second half of this year as we have now finished realigning our delivery process. While historically most deliveries were made towards the end of each quarter, our delivery pattern should smooth out in the next two quarters. Our target of delivering 100,000 Model S and Model X vehicles this year remains unchanged.
We are expecting that the negative margin of our Services and Other business will narrow by the end of this year. As we generate more revenue from used car sales, merchandise & accessory sales, body shop and other paid repairs, we expect revenue to grow significantly. Used car sales in particular are growing rapidly and are becoming more profitable. Structurally, as our vehicles come off lease and as our fleet gradually ages, used car sales will become a significant portion of our Services and Other business. A vast majority of our customers coming off lease are either obtaining a new Tesla or keeping their existing car, which is well above industry best-in-class.
While capacity for our energy storage continues to improve, our solar deployments should remain stable in the second half of this year as we solely focus on our own retail channel.
For the rest of this year, total non-GAAP operating expenses should remain relatively stable at Q2 levels excluding restructuring costs, as a result of our overall drive towards operating efficiencies. The higher import duties on Chinese components and unfavorable currency movements are likely to cause negative pressures. That said, we still expect to achieve GAAP profitability in Q3 and Q4. Going forward, we believe Tesla can achieve sustained quarterly profits, absent a severe force majeure or economic downturn, while continuing to grow at a rapid pace. We expect to generate positive cash including operating cash flows and capital expenditures, as well as the normal inflow of cash received from non-recourse financing activities on leased vehicles and solar products.
We have significantly cut back on our capex projections as a result of our revised strategy to grow capacity with our existing Model 3 lines rather than adding all new lines. Our total 2018 capex is expected to be slightly below $2.5 billion, which is significantly below the total 2017 level of $3.4 billion. Ultimately, our capital expenditure guidance will develop in line with Model 3 production and profitability. We will be able to adjust our capital expenditures depending on our operating cash generation.
Interest expenses in Q3 should be roughly $170 million (with approximately half being non-cash) and losses attributable to noncontrolling interest should remain in line with the last quarter.
It took 15 years to execute on our initial goal to produce an affordable, long-range electric vehicle that can also be highly profitable. In the second half of 2018, we expect, for the first time in our history, to become both sustainably profitable and cash flow positive. None of this would be possible without the incredible efforts of our employees and the support of our customers, suppliers and investors. We thank you for your unwavering support and we have never been more excited on what the next few years will produce.
For earnings history and earnings-related data on Tesla (TSLA) click here.