Olive Garden owner Darden (DRI) slips on mixed earnings, outlook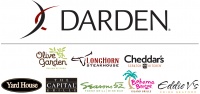 Darden Restaurants (NYSE: DRI) shares fell 1% after the Olive Garden owner reported mixed FQ1 results and offered a soft outlook.
Revenue of $2.7 billion missed the average analyst target of $2.71 billion. Earnings per share of $1.78 came in ahead of the consensus of $1.73. Operating income was $252.9 million, marking a 3.6% year-over-year increase, although below the estimate of $269.5 million.
Darden shares fell 1% in early Thursday trade.
Darden expects EPS in the range of $8.55 to $8.85, with the midpoint of the range coming in just below the consensus of $8.75.
"Looking across our entire portfolio, I am pleased with our first quarter results," said Darden President & CEO Rick Cardenas. "Our strategy is working. We continue to grow share, strengthen margins, and make meaningful investments in our business while returning capital to shareholders."
Darden's Board of Directors has announced a quarterly cash dividend of $1.31 per share on the company's outstanding common stock. This dividend will be payable on November 1 to shareholders of record as of the close of business on October 10, 2023.
During the quarter, Darden repurchased around 0.9 million shares of its common stock, amounting to approximately $143 million. As of the end of the fiscal first quarter, the company still had approximately $509 million remaining under its current $1 billion repurchase authorization.
By Senad Karaahmetovic