Morgan Stanley CEO James Gorman Contradicts JPMorgan's Jamie Dimon, Says Bitcoin (BTC) is 'Not a Fad' and Won't Go Away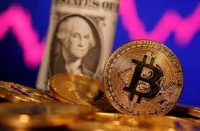 ---
Get inside Wall Street with StreetInsider Premium. Claim your 1-week free trial here.
---
James Patrick Gorman, CEO and Chairman of Morgan Stanley, believes Bitcoin (BTC) is here to stay and won't go away.
Gorman's remarks contradict the comments of his JPMorgan counterpart, Jamie Dimon, who said BTC is "worthless."
"Well, we're not directly trading crypto for retail clients, and there are other players who are choosing to do that. We give access into -- for them to buy crypto through various funds and things," said Gorman during Morgan Stanley's Q3 earnings call.
"But listen, I've said it publicly before, and I'll say it again. I don't think crypto is a fad. I don't think it's going to go away. I don't know what the value of bitcoin should or shouldn't be, but these things aren't going away. And the blockchain technology supporting is obviously very real and powerful," Gorman added.
Gorman also added that crypto at the moment is "not a huge part of the business demand from our clients." If this trend changes, the bank will adapt as well.
"But right now, it's not -- it certainly not what's driving our economics one way or the other. But we're watchful of it. We're respectful, and we'll wait and see how the regulators handle it," he added.
Speaking at the Institute of International Finance event Monday, Jamie Dimon said:
"I personally think that bitcoin is worthless. I don't want to be a spokesperson — I don't care. It makes no difference to me. Our clients are adults. They disagree. That's what makes markets. So, if they want to have access to buy yourself bitcoin, we can't custody it but we can give them legitimate, as clean as possible, access."
Bitcoin price is trading at $57,408 at the moment.