Cathie Wood buys the dip in Coinbase shares amid SEC crackdown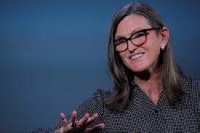 Investing.com -- Cathie Wood's Ark Invest increased its stake in crypto exchange Coinbase Global Inc (NASDAQ: COIN) on Tuesday, as a crackdown by the Securities and Exchange Commission on the crypto industry saw the stock hit near five-month lows.
Data from the website Cathie's Ark, which tracks the investment activities of the Ark group, showed that three funds under Cathie Wood bought a total of over 400,000 shares in Coinbase on Tuesday.
Her flagship ARK Innovation ETF (NYSE: ARKK) carried out most of the buying, adding over 300,000 shares.
This came as Coinbase's share price plummeted as much as 20% after the SEC sued the firm over operating an unlicensed exchange, while also issuing cease and desist letters over its staking services.
"We allege that Coinbase, despite being subject to the securities laws, commingled and unlawfully offered exchange, broker-dealer, and clearinghouse functions," SEC Chair Gary Gensler said in a press release.
Coinbase shares settled 12% lower on Tuesday, their second session of steep losses this week following a 9% tumble on Monday, after the SEC also sued world no. 1 crypto exchange Binance over similar charges.
But Coinbase shares rose 2% in aftermarket trading, boosted by news of the Ark buy.
Cathie Wood has repeatedly expressed confidence in Coinbase and the broader crypto industry, and has cited a $1 million long-term price target for Bitcoin on the belief that it is an effective inflation hedge.
Coinbase holds the fifth-largest weightage in Ark's flagship Innovation ETF, with the fund having consistently accumulated the stock since its listing in 2021. But Coinbase has seen a sharp decline in value from 2021 highs, hitting record lows earlier this year as interest in crypto markets rapidly dried up amid rising U.S. lending rates.
The company has also struggled to remain profitable amid multiple failed ventures, regulatory hiccups, and mounting operational costs, especially as low crypto trading volumes hurt its transaction margins, which are a key source of revenue.
Bitcoin prices showed little reaction to the SEC move against Coinbase, rising 4% on Wednesday. But the world's largest cryptocurrency was nursing steep losses through May, as trading volumes sank.
You May Also Be Interested In