Tomi Environmental Solutions (TOMZ) Secures Vizient Contract as an Approved Supplier of SteraMist Systems
TOMI Environmental Solutions, Inc.® ("TOMI") (NASDAQ: TOMZ), a global company specializing in disinfection and decontamination solutions, today announced that the Company has entered into a contract with Vizient, Inc. increasing TOMI's presence in the U.S. healthcare system.
Vizient is the largest group purchasing organization (GPO) in the healthcare industry supplying around $100 billion in annual member purchasing volume. Vizient serves approximately 97% of the nation's Academic Medical Centers, more than 50% of the nation's acute care health system, and serves more than 20% of the nation's ambulatory market. This contract enables TOMI to supply SteraMist systems to a wide range of healthcare providers, including academic medical centers, pediatric facilities, and community health providers, through Vizient's nationwide network.
TOMI underwent a rigorous competitive procurement process and was selected as an approved supplier in the category of Automated Room Disinfection for SteraMist systems that will begin October 1, 2023. The company's dedication to providing Vizient with comprehensive documentation and validation of SteraMist iHP technology played a crucial role in securing this opportunity.
Dr. Halden Shane, TOMI Chief Executive Officer states, "Our team has been collaborating with Vizient over the past few years to demonstrate the effectiveness of SteraMist technology and this contract exposes all of our SteraMist products to a vast market of healthcare providers that exclusively purchase disinfection supplies through Vizient, Inc."
Through the Vizient contract, TOMI aims to enhance infection prevention and control measures across the healthcare industry. By making SteraMist systems readily accessible to a wide range of healthcare providers, TOMI seeks to contribute to the creation of safer and healthier environments for patients, staff, and visitors alike. With SteraMist's cutting-edge technology and proven efficacy, TOMI is poised to make a positive impact on healthcare facilities' ability to maintain disinfected spaces, ultimately improving patient outcomes and overall safety.
TOMI™ Environmental Solutions, Inc.: Innovating for a safer world®
TOMI™ Environmental Solutions, Inc. (NASDAQ: TOMZ) is a global decontamination and infection prevention company, providing environmental solutions for disinfection through the manufacturing, sales and licensing of its premier Binary Ionization Technology ® (BIT™) platform. Invented under a defense grant in association with the Defense Advanced Research Projects Agency (DARPA) of the U.S. Department of Defense, BIT™ solution utilizes a low percentage hydrogen peroxide as its only active ingredient and uses patented ionized Hydrogen Peroxide (iHP™) technology in all SteraMist systems to create superior disinfection. TOMI products are designed to service a broad spectrum of use sites, including, but not limited to, hospitals and medical facilities, biosafety labs, pharmaceutical facilities, commercial and office buildings, schools, restaurants, meat and produce processing facilities, and police and fire departments.
For additional information, please visit https://steramist.com/ or contact us at [email protected]
Safe Harbor Statement under the Private Securities Litigation Reform Act of 1995
This press release contains forward-looking statements that are based on current expectations, estimates, forecasts and projections of future performance based on management's judgment, beliefs, current trends, and anticipated product performance. These forward-looking statements include, without limitation, statements relating to SteraMist's opportunities in the new partnership. Forward-looking statements involve risks and uncertainties that may cause actual results to differ materially from those contained in the forward-looking statements. Forward-looking statements involve a number of risks and uncertainties, all of which are difficult or impossible to predict accurately and many of which are beyond our control. As such, our actual results could differ materially and adversely from those expressed in any forward-looking statements as a result of various factors. Important factors that could affect our performance and cause results to differ materially from management's expectations are described in the section entitled "Risk Factors," in our Annual Report on Form 10-K and other SEC filings. These factors include: our history of losses that may prevent us from achieving profitability in the future; our lack of long-term customer contracts and our inability to rely on our sales history or backlog as an indicator of our future sales; that we are subject to a variety or risks associated with doing business internationally; our success in business depends on our ability to adequately protect our intellectual property; and that our stock price is volatile and there is a limited market for our shares. Although we believe that the expectations reflected in the forward-looking statements are reasonable, we cannot guarantee future results, level of activity, performance, or achievements. You should not place undue reliance on these forward-looking statements. All information provided in this press release is as of today's date, unless otherwise stated, and we undertake no duty to update such information, except as required under applicable law.
INVESTOR RELATIONS CONTACT:John Nesbett/Rosalyn ChristianIMS Investor Relations[email protected]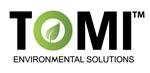 Source: TOMI Environmental Solutions, Inc.
Corporate News
Sign up for StreetInsider Free!
Receive full access to all new and archived articles, unlimited portfolio tracking, e-mail alerts, custom newswires and RSS feeds - and more!