Tesla (TSLA) listed a most shorted stock for third month in a row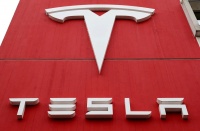 According to a report from securities lending data firm Hazeltree on Tuesday, Tesla (NASDAQ: TSLA) remained at the top of the list of the most heavily shorted large-cap U.S. stocks for the third consecutive month in August.
On Monday, Tesla's stock experienced a surge of over 5% following a note from Morgan Stanley suggesting that the company's Dojo supercomputer could potentially enhance Tesla's market value.
A short position is a bet anticipating a decline in a stock's price.
Hazeltree, which monitors a portfolio of 12,000 global equities, disclosed that Charter Communications (NASDAQ: CHTR) and Apple (NASDAQ: AAPL) held the second and third positions, respectively, on the list of the most shorted stocks last month.
Tesla CEO Elon Musk took to his social media platform X on Monday to respond to the short position that Microsoft co-founder Bill Gates has maintained against the company, as detailed in a recent biography of Musk authored by Walter Isaacson.
"Taking out a short position against Tesla, as Gates did, results in the highest return only if a company goes bankrupt!" said Musk.
Shares of TSLA are down 2.16% in afternoon trading Tuesday.
By Michael Elkins | [email protected]