Tesla (TSLA) in early talks to enter Saudi Arabia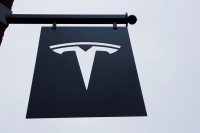 The Wall Street Journal reports Monday morning, citing unnamed sources, that electric vehicle giant, Tesla (NASDAQ: TSLA) has entered talks with Saudi Arabia about setting up a manufacturing facility in the country.
The discussions are in their initial phases and any potential agreement might face significant challenges due to the tense association between Tesla's CEO, Elon Musk, and the Saudi officials, as well as the kingdom's current collaboration with Lucid Group (NASDAQ: LCID), a competitor in the electric vehicle sector.
Saudi Arabia has been charming Tesla by offering the opportunity to acquire specific quantities of essential metals and minerals required for the company's electric vehicles. These resources would be sourced from various countries, including the Democratic Republic of Congo, which is a major supplier of around 70% of the world's cobalt. In June, the Saudi authorities approached the Congolese government to explore the possibility of securing assets within the country.
As part of their proposals, the unnamed sources revealed that Saudi Arabia is contemplating the idea of providing financing to Trafigura for a struggling cobalt and copper project in Congo. This initiative could potentially contribute to the required materials for a Tesla vehicle factory in Saudi Arabia.
If successful, a deal with Saudi Arabia could significantly contribute to Tesla's target of selling 20 million vehicles annually by the year 2030, a substantial increase from the approximately 1.3 million vehicles it sold in 2022.
Elon Musk has previously stated that Tesla might require approximately twelve additional manufacturing facilities to achieve its goal. Tesla currently makes vehicles in the U.S., China and Germany, and has said it plans to do so in Mexico. According to Musk's previous statements, it's possible the company could announce a new facility before the end of the year.
Shares of TSLA are up 0.02% in pre-market trading Monday morning.
By Michael Elkins | [email protected]