Tesla (TSLA) Raised to Ba3 from B2 at Moody's, Outlook Positive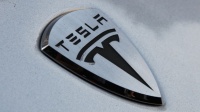 Price: $663.54

--0%
Overall Analyst Rating:
NEUTRAL
(
Up)
Revenue Growth %:
+73.4%
---
Get inside Wall Street with StreetInsider Premium. Claim your 1-week free trial here.
---
(Updated - March 25, 2021 5:43 PM EDT)
Tesla (NASDAQ: TSLA) Raised to Ba3 from B2 at Moody's, Outlook Positive.
From Moody's
Moody's Investors Service upgraded the ratings of Tesla Inc. (Tesla), corporate family to Ba3 from B2, senior unsecured to B1 from B3 and speculative grade liquidity rating to SGL-1 from SGL-2. The outlook changed to positive.
The upgrade of the ratings reflects the improving outlook for the profitability of Tesla's core automotive operations (excluding the sale of regulatory credits), the expanding global market for battery electric vehicles (BEV), and the company's healthy liquidity position.
The following rating actions were taken:
Upgrades:
..Issuer: Tesla, Inc.
.... Corporate Family Rating, Upgraded to Ba3 from B2
.... Probability of Default Rating, Upgraded to Ba3-PD from B2-PD
.... Speculative Grade Liquidity Rating, Upgraded to SGL-1 from SGL-2
....Senior Unsecured Regular Bond/Debenture, Upgraded to B1 (LGD4) from B3 (LGD4)
Outlook Actions:
..Issuer: Tesla, Inc.
....Outlook, Changed To Positive From Stable
RATINGS RATIONALE
The growing scale of Tesla's BEV operations will support gradual improvement in the company's automotive profitability and margins, excluding the contribution from its sale of regulatory credits. The company has been successful at scaling up the global production on the Model 3 and expanding capacity. Moody's estimates that industry shipments of BEVs will grow from approximately 1.4% of total global automotive unit sales in 2020 to approximately 10% by mid-decade, and could reach 25% by the end of the decade. Tesla's large cash position of $19 billion will support its ability to fund the planned expansion of its production facilities in Europe and the United States as the market grows.
However, Tesla's earnings performance has been significantly boosted by the sale of emission credits to other automotive companies that cannot meet emission requirement in various geographic regulatory regimes. The sale of credits amounted to $1.6 billion in 2020, resulting in operating income excluding regulatory credits of $414 million. Absent credit sales, Tesla's operations have generated losses through the first half of 2020. The company's future automotive profitability, excluding emission credit sales, could be challenged as traditional auto manufacturers begin to aggressively launch BEVs that will play a critical role in their meeting emission requirement levels. Moreover, as these manufacturers introduce BEVs and a range of other alternative fuel vehicles (AFV), Moody's expects that Tesla's sale of emission credits will decline.
The positive outlook reflects Tesla's leading position in the BEV sector, the favorable long term growth prospects for electric vehicles, and a liquidity position the should comfortably fund near-term expansion plans. The outlook also recognizes the potentially supportive policies under the Biden administration for electric vehicles.
Tesla's $19 billion of cash affords it a strong liquidity position with ample capacity to: 1) repay approximately $1.8 billion of debt maturing over the next twelve months; 2) fund a $4.5 to $6 billion capital expenditure program; and, 3) cover negative free cash flow that could be as much as $1 billion.
FACTORS THAT COULD LEAD TO AN UPGRADE OR DOWNGRADE OF THE RATINGS
Tesla's ratings could be upgraded if the company remains on a trajectory to sustain automotive EBITA margins above 4% during 2021 as it brings European production facilities on line. This margin would have to be sustained in the face increased BEV competition, particularly in China and expanding AFV offering in Europe. Maintaining a strong liquidity profile to fund its capacity expansion and production ramp up will also be critical to an upgrade.
The ratings could be lowered if there is a significant erosion in Tesla's emission credit sales during the near term and if automotive margin falls below 2% or if the competitive and pricing position of Tesla's models weaken as other auto manufacturer launch competing BEVs.
Because of its all-electric product line, Tesla faces no risk from having to meet carbon emission requirements that exist in all major automotive markets. This affords it a significant advantage relative to all of its main automotive competitors, who are devoting significant capital to developing alternative fuel vehicles that will enable them to comply with regulations. Until such compliance is achieved, they have the option of paying fines, or purchasing emission credit from the few manufactures that generate excess credits. Tesla has been a major source of emission credits the industry.
Tesla's commitment to BEVs, battery power storage, and solar power generation provide a strong basis of environmental and social responsibility.
Tesla faces moderate risk in its corporate governance structure. This risk relates principally to the considerable latitude afforded to the company's CEO, Elon Musk, who owns about 20% of the company. He also has close personal ties with various directors, and the board has not demonstrated meaningful oversight over the activities of the CEO. In addition, Mr. Musk's focus on Tesla must compete with his responsibilities for outside ventures such as SpaceX.
Tesla, Inc., headquartered in Palo Alto, California, is the world's leading manufacturer of battery electric vehicles, and is also a major producer of energy generation and storage systems. It had 2020 revenues of $31.5 billion.