Surface Oncology (SURF) Presents Promising Preclinical Data for Lead Immunotherapy Product Candidates at AACR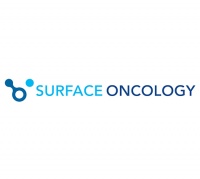 Price: $7.40

-1.46%
Overall Analyst Rating:
BUY
(
Up)
---
Get instant alerts when news breaks on your stocks. Claim your 1-week free trial to StreetInsider Premium here.
---
Surface Oncology (Nasdaq: SURF), a clinical-stage immuno-oncology company developing next-generation immunotherapies that target the tumor microenvironment, will present preclinical findings supporting the company's lead product programs, SRF388 (targeting IL-27) and SRF617 (targeting CD39). These data will be presented as part of the American Association for Cancer Research (AACR) 2021 Annual Meeting, which is being held virtually April 10-15 and May 17-21, 2021.
"These findings further support the biological rationale that both of our lead product candidates, SRF388 and SRF617, promote increased proinflammatory activity within the tumor microenvironment in the hopes of ultimately providing novel treatment options to patients with cancer," said Vito Palombella, chief scientific officer. "We look forward to sharing data from the ongoing Phase 1 clinical trials for both programs this June."
The e-poster website will be launched at 8:30 a.m. ET on Saturday, April 10, and will remain available for viewing through Monday, June 21. The two e-posters will also be viewable on the Surface Oncology website.
Presentation Type: e-poster (Abstract: 1802)Title: CD39 inhibition shapes the transcriptional landscape of myeloid cells and induces proinflammatory states in the CT26 syngeneic tumor modelLead Authors: Devapregasan Moodley, Ph.D. and Mayra Carneiro
Summary:
SRF617 is a potent inhibitor of CD39 enzymatic activity both in vitro and in vivo.
Increased activity of CD39 results in significant reductions in extracellular ATP and subsequent accumulation of adenosine, contributing to tumor immune escape, induction of angiogenesis and metastatic progression.
Immunological mechanisms associated with CD39 blockade reveal major changes to immunocyte transcriptional landscapes, including upregulation of several proinflammatory genes.
CD39 inhibition predominantly shaped the transcriptional landscape of myeloid cells and dendritic cells, and generally induced proinflammatory conditions.
These findings indicate that CD39 blockade induces proinflammatory responses, supporting future clinical studies of SRF617 for treating patients with cancer.
Presentation Type: e-poster (Abstract: 1607)Title: IL-27 signaling serves as an immunological checkpoint for NK cells to promote hepatocellular carcinoma in multiple murine modelsLead Author: Turan Aghayev
Summary:
IL-27 signaling suppresses natural killer (NK) cells within the tumor microenvironment, promoting hepatocellular carcinoma (HCC) development in vivo.
Elevated IL-27RA expression in cancer tissue and elevated EBI3 serum levels are associated with poor prognosis in patients with HCC.
Inhibiting IL-27 signaling leads to tumor growth inhibition and suppressed HCC development in a non-alcoholic steatohepatitis (NASH)-driven HCC model with concomitant enhancement of NK cell activity.
These findings indicate that IL-27 blockade regulates NK cell-mediated control of HCC and is a promising therapeutic target in liver cancer.
About SRF617:SRF617 is a fully human antibody designed to inhibit the enzymatic activity of CD39, allowing for a dual mechanism of action to promote anti-tumor immunity via reduction of immunosuppressive adenosine in addition to increasing levels of immunostimulatory ATP. A substantial body of research supports a role for CD39 in allowing cancer to evade immune responses. For example, pancreatic cancer stromal cells within the tumor micro-environment express high levels of CD39 which may inhibit anti-cancer immune responses. In preclinical studies, SRF617 has exhibited strong affinity for and inhibition of CD39, the ability to reduce adenosine and increase ATP levels and anti-tumor activity both as a single agent and in combination with multiple therapeutic agents.
About SRF388:SRF388 is a fully human anti-IL-27 antibody designed to inhibit the activity of this immunosuppressive cytokine. Surface Oncology has identified particular tumor types, including liver and kidney cancer, where IL-27 appears to play an important role in the immunosuppressive tumor microenvironment and may contribute to resistance to treatment with checkpoint inhibitors. SRF388 targets the rate-limiting p28 subunit of IL-27, and preclinical studies have shown that treatment with SRF388 blocks the immuno-suppressive biologic effects of IL-27, resulting in immune cell activation in combination with other cancer therapies including anti-PD-1 therapy, as well as potent anti-tumor effects as a monotherapy. Furthermore, Surface Oncology has identified a potential biomarker associated with IL-27 that may be useful in helping to identify patients most likely to respond to SRF388. In November 2020, Surface announced that SRF388 was granted Orphan Drug designation and Fast Track designation for the treatment of hepatocellular carcinoma from the FDA.
Corporate News
,
FDA
Related Entities
FDA
Sign up for StreetInsider Free!
Receive full access to all new and archived articles, unlimited portfolio tracking, e-mail alerts, custom newswires and RSS feeds - and more!