Pacira Pharma (PCRX) Achieves Primary and Key Secondary Endpoints in Phase 4 CHOICE Study in Cesarean Section Patients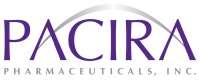 Pacira BioSciences, Inc. (NASDAQ: PCRX) today announced that its Phase 4 study of EXPAREL® (bupivacaine liposome injectable suspension) in patients undergoing Cesarean section (C-section) achieved its primary endpoint with a statistically significant reduction in total postsurgical opioid consumption while maintaining pain scores through 72 hours (P≤0.001). EXPAREL demonstrated statistical significance for the key secondary endpoint of a reduction in the incidence and severity of itching for 72 hours after surgery (P≤0.05). Full study results will be submitted for publication in the peer-reviewed medical literature later this year.
The Phase 4, multicenter, randomized, active-controlled study across 18 clinical sites in the United States, enrolled 169 patients undergoing elective C-section. Patients were randomized (1:1:1) to receive either 150 mcg morphine spinal anesthesia plus standard of care postoperative pain regimen, 50 mcg morphine spinal anesthesia plus EXPAREL transversus abdominis plane (TAP) field block or opioid-free spinal anesthesia plus EXPAREL TAP block. Patients in the EXPAREL arms received a protocol-defined postoperative pain management regimen comprised of ketorolac, acetaminophen and ibuprofen. All patients could receive opioid rescue pain medicine upon request for breakthrough pain.
"Providing safe and effective non-opioid postsurgical pain management is a critical element to helping new mothers recover and care for themselves and their newborn following C-section surgery," said Dave Stack, chairman and chief executive officer of Pacira BioSciences. "We believe the results of our CHOICE study will support the transformation of the standard of pain management for C-section patients to EXPAREL TAP block, given its demonstrated ability to reduce opioid requirements and the associated adverse events like pruritus."
The company's previous Phase 4 clinical study of EXPAREL in the C-section setting is awaiting publication in a peer-reviewed medical journal. That study demonstrated the superiority of an EXPAREL TAP block to a bupivacaine TAP block in patients undergoing C-section, achieving a 52% reduction in opioid use for EXPAREL-treated patients while also reducing pain scores through 72 hours post-surgery. Importantly, the study demonstrated a statistically significant higher percentage of opioid-spared patients in the EXPAREL group, with EXPAREL treated patients taking no more than one opioid tablet and experiencing no opioid-related side effects through 72 hours.
Mr. Stack continued: "Opioid addiction in women is growing at an alarming rate and studies have shown women are 40% more likely than men to become newly persistent users of opioids following surgery. This, coupled with the need to provide new mothers with effective pain control without the unwanted and potentially debilitating side effects of opioids, makes EXPAREL well-positioned to play an important role in reducing opioid use in C-section patients and, consequently, in contributing to our five-year growth trajectory."