Musk denies WSJ report on potential Tesla (TSLA) factory in Saudi Arabia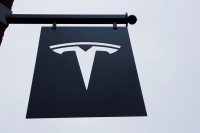 Tesla CEO Elon Musk took to his social media platform "X" to deny a recent report from The Wall Street Journal which suggested that his electric vehicle company, Tesla (NASDAQ: TSLA) and the kingdom of Saudi Arabia are in early discussions for a potential factory in the country. In the post, Musk noted that the report was "another utterly false article from the WSJ."
The Wall Street Journal noted that its information was from unnamed sources familiar with the matter. The Journal's sources also noted that the talks are still at an early stage and could still fall apart.
Tesla is currently striving to conclude 2023 with a production output of 1.8 million vehicles, a substantial improvement compared to the 1.3 million sold the previous year. However, this figure still falls significantly short of Tesla's 2023 goal of selling 20 million vehicles.
Musk has previously suggested that Tesla would likely require approximately a dozen gigafactories worldwide to attain its ambitious target for 2030. Consequently, the company must make prompt decisions regarding the location of its next electric vehicle manufacturing facility. This will enable Tesla to begin the necessary preparations to reach the 20 million vehicle mark by the end of the decade.
Currently, Tesla operates two electric vehicle manufacturing facilities in the United States: the Fremont Factory and Gigafactory Texas. Additionally, the company produces vehicles in Gigafactory Shanghai, which is presently its most productive factory.
Additionally, Giga Berlin boasts an enhanced paint shop, providing exclusive color choices unavailable elsewhere. Tesla has also officially announced the construction of Gigafactory Mexico, with a specific focus on the development of the company's next-generation platform.
Shares of TSLA are down 2.55% in afternoon trading Monday.
By Michael Elkins | [email protected]