Merck (MRK) Tops Q1 EPS by 16c, Revenues Beat; Lowers FY20 EPS/Revenue Guidance Below Consensus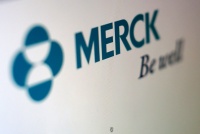 ---
Get inside Wall Street with StreetInsider Premium. Claim your 1-week free trial here.
---
Merck (NYSE: MRK) reported Q1 EPS of $1.50, $0.16 better than the analyst estimate of $1.34. Revenue for the quarter came in at $12.06 billion versus the consensus estimate of $11.46 billion.
First-Quarter 2020 Worldwide Sales Were $12.1 Billion, an Increase of 11%; Excluding the Impact from Foreign Exchange, Sales Grew 13%

KEYTRUDA Sales Grew 45% to $3.3 Billion; Excluding the Impact from Foreign Exchange, Sales Grew 46%
Human Health Vaccines Sales Grew 14% to $2.2 Billion, Including the Effect of Timing; Excluding the Impact from Foreign Exchange, Sales Grew 16%

First-Quarter 2020 GAAP EPS Was $1.26; First-Quarter Non-GAAP EPS Was $1.50
Company is Active in COVID-19-Related Antiviral and Vaccine Research
"In this challenging and unprecedented time, the quality of our first-quarter performance reflects strong demand for our portfolio of innovative products, continued commercial and clinical execution and the dedication and resilience of our employees around the world. The fundamentals of our business remain strong," said Kenneth C. Frazier, chairman and chief executive officer, Merck. "The COVID-19 global pandemic poses challenges to all of us, including serious threats to the health of people, businesses and economies around the world. Without question, our industry and our company have a unique ability and responsibility to help the world respond to this pandemic by working collaboratively to deliver solutions to coronavirus infection while also maintaining the supply of medically important products to those who need them."
COVID-19 Update
Overall, in response to the COVID-19 pandemic, Merck is focused on protecting the safety of its employees, ensuring that our supply of medicines and vaccines reach our patients, contributing our scientific expertise to the development of antiviral and vaccine approaches, and supporting health care providers and our communities. In addition, Merck is working diligently to continue its efforts to discover and develop new therapeutics to address society's unmet medical needs, needs which persist despite the pandemic. Merck remains confident in the fundamental underlying demand for its products and its prospects for long-term growth, though COVID-related disruptions to patients' ability to access health care providers will cause near-term challenges.
COVID-19 Research:
Building on our experience with antivirals and vaccines, we have embarked upon a broad-based development program for SARS-CoV-2. Merck has teams of scientists researching COVID-19 and assessing our available antiviral candidates and vaccine assets for potential to impact COVID-19. With respect to vaccines, Merck has been thoughtful in selecting proven platforms that have in the past been used to generate vaccines with desirable qualities. We are in advanced discussions with multiple groups, focusing on three different viral vaccine platforms. The details of those collaborations will be announced when the necessary arrangements are finalized. Beyond our search for vaccines, we also are engaged in studying potential antiviral therapies that could be deployed more rapidly. In addition to evaluating compounds in our own laboratories, we have identified programs in other laboratories that could prove beneficial.
The company also is engaged with a range of research organizations on collaborative efforts to accelerate the development of medicines and vaccines for COVID-19. Merck announced a new research collaboration with the Institute for Systems Biology to investigate and define the molecular mechanisms of SARS-CoV-2 infection and COVID-19 and identify targets for medicines and vaccines. In addition, we are participating in the NIH-led Accelerating COVID-19 Therapeutic Interventions and Vaccines (ACTIV consortium), a partnership that aims to develop a collaborative framework for prioritizing vaccine and drug candidates, streamlining clinical trials and regulatory processes and/or leveraging assets among all partners to rapidly respond to COVID-19 and future pandemics.
Business and Financial:
In the first quarter, the estimated overall impact of COVID-19 to Merck's revenue was immaterial. For the full-year 2020, Merck expects an unfavorable impact to revenue of approximately $2.1 billion (excluding the impact of foreign exchange) due to COVID-19, comprised of approximately $1.7 billion for pharmaceuticals and approximately $400 million for Animal Health.
In the first quarter, within our human health business, markets in Asia Pacific, including China, saw a negative impact from social distancing measures and reduced access to health care providers given the earlier prevalence of the virus; whereas other markets, particularly in Europe, saw customers build inventory due to concerns about supply and ability to access health care providers given social distancing measures.
Roughly two-thirds of Merck's pharmaceutical revenue is comprised of physician-administered products, which, despite strong underlying demand, are being impacted by social distancing measures, fewer well visits and delays in elective surgeries due to COVID-19. These impacts, as well as prioritization of COVID-19 patients at health care providers, are resulting in reduced administration of many of our human health products, in particular for our vaccines as well as KEYTRUDA (pembrolizumab) and IMPLANON/NEXPLANON (etonogestrel implant). The company anticipates reduced demand for its physician-administered products while pandemic-related access measures remain in place. In addition, declines in medical visits and elective surgeries also will have a negative impact on the demand for certain products, including BRIDION (sugammadex).
In our Animal Health business, revenue was positively impacted by approximately $60 million in the first quarter as customers made advance purchases to secure supply for livestock products and BRAVECTO (fluralaner), given the uncertainty related to expanding social distancing measures. The company expects that reduced veterinary visits and decreased protein and milk consumption due to restaurant and school closures will negatively impact the business going forward. Merck also expects that the negative impacts on the economy will have an additional unfavorable effect on its Animal Health business.
Operating expenses were positively impacted in the first quarter by approximately $100 million, primarily driven by lower promotional and selling costs and delayed clinical program spending due to COVID-19. For the full-year 2020, Merck expects a favorable impact to operating expenses of approximately $400 million.
While the company expects to rely on governmental authorities to determine when operations can return to normal and is cognizant that the duration, spread and severity of the outbreak will be critical determinants, for the purposes of the full-year estimates provided above, the company has assumed the majority of the negative impact will be in the second quarter, with a gradual return to normal operations beginning late in the second quarter and extending through the third quarter, with a full return to normal operations in the fourth quarter.
Merck's financial strength and strong balance sheet is allowing it to continue with its capital allocation priorities, including investing in research and development (R&D) and in growth drivers, investing in manufacturing capacity expansion, paying its dividend and continuing the search for value-enhancing business development. However, given these priorities and the current operating environment, Merck has temporarily suspended its share repurchase program.
Merck's updated 2020 guidance takes these impacts into consideration.
GUIDANCE:
Merck sees FY2020 EPS of $5.17-$5.37, versus the consensus of $5.56. Merck sees FY2020 revenue of $46.1-48.1 billion, versus the consensus of $48.72 billion.
Due to the Impact of COVID-19, Company Lowers 2020 Full-Year Revenue Range to be Between $46.1 Billion and $48.1 Billion, Including a Negative Impact from Foreign Exchange of Approximately 2.5%
Due to the Impact of COVID-19, Company Lowers 2020 Full-Year GAAP EPS Range to be Between $4.12 and $4.32; Lowers 2020 Full-Year Non-GAAP EPS Range to be Between $5.17 and $5.37, Including a Negative Impact from Foreign Exchange of Approximately 3.5%
For earnings history and earnings-related data on Merck (MRK) click here.