KE Holdings Inc. (BEKE) Tops Q3 EPS by 8c, Revenues Beat; Offers 4Q Revenue Guidance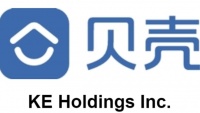 ---
News and research before you hear about it on CNBC and others. Claim your 1-week free trial to StreetInsider Premium here.
---
KE Holdings Inc. (NYSE: BEKE) reported Q3 EPS of $0.25, $0.08 better than the analyst estimate of $0.17. Revenue for the quarter came in at $3 billion versus the consensus estimate of $2.59 billion.
Business Highlights for the Third Quarter of 2020
Gross transaction value (GTV)1 was RMB1,050.0 billion (US$154.6 billion), an increase of 87.2% year-over-year. GTV of existing home transactions was RMB576.1 billion (US$84.8 billion), an increase of 71.8% year-over-year. GTV of new home transactions was RMB420.7 billion (US$62.0 billion), an increase of 105.7% year-over-year. GTV of emerging and other services was RMB53.2 billion (US$7.8 billion), an increase of 151.5% year-over-year.
Net revenues were RMB20.5 billion (US$3.0 billion), an increase of 70.9% year-over-year.
Net income was RMB75 million (US$11 million). Adjusted net income2 was RMB1,858 million (US$274 million), an increase of 210.6% year-over-year.
Number of stores was 44,883 as of September 30, 2020, a 41.7% increase year-over-year.
Number of agents was 477,810 as of September 30, 2020, a 50.7% increase year-over-year.
Mobile monthly active users (MAU)3 averaged 47.9 million, an increase of 82.1% year-over-year.
Mr. Stanley Yongdong Peng, Co-founder and Chief Executive Officer of Beike, commented, "We are pleased to deliver strong results for our first quarter as a public company. In the third quarter, we continued to strengthen our infrastructure, including the Agent Cooperation Network, by scaling up our network of community centric stores and agents, as well as expanding our online presence at a rapid pace. With improved customer experience on our platform, we achieved an 87.2% increase in GTV and a 70.9% increase in net revenues year-over-year. For existing home transaction services, with strong demand for quality housing transaction services from both home sellers and buyers, we further grew our GTV by 71.8% year-over-year. For example, facilitated by our big data technology, the Premium Package for Home Sellers was tailor-made for home sellers for more effective housing transactions. For new home transaction services, with increasing demand from real estate developers for professional brokerage services and our enhanced capability to achieve effective sell-through, our GTV of new home transaction services increased by 105.7% year-over-year. We partnered with real estate developers to adopt the 3-Day Free Return policy, while performing extensive risk assessment to ensure strong management of receivables. Leveraging our world-class database for residential housing and A.I. technology, we continued to standardize and digitalize the industry by adopting innovative applications, such as our Online Mortgage Processing Service, Xiaobei AI-assistant 2.0 and VR Lite. As we further execute our strategic initiatives centered on taking care of our customers and supporting service providers, we remain enthusiastic about our future path and are confident to deliver sustainable value to our housing customers, agents and other platform participants over the long-term."
Mr. Tao Xu, Chief Financial Officer of Beike, further commented, "We achieved robust financial and operational growths in the third quarter. Our net revenues increased by 70.9% year-over-year to RMB20.5 billion, driven by solid growth of GTV of both existing home and new home transaction services, along with increased productivity and continuously improved service quality on our platform. Additionally, we achieved strong improvement in profitability in the third quarter as a result of greater operating leverage. Adjusted net income increased by 210.6% to RMB1,858 million (US$274 million) from RMB598 million for the same period in 2019. Looking ahead, drawing upon our infrastructure that we endeavor to iterate, amplifying our extensive industry experience in reconstructing and streamlining the complex housing transactions, we will continue to grow in all fronts, diversify our business offerings across housing related products and services. We remain strongly committed to our mission of admirable service and joyful living, and reshaping the industry while capturing the tremendous opportunities along with all our platform participants."
GUIDANCE:
KE Holdings Inc. sees Q4 2020 revenue of $2.8-3 billion, versus the consensus of $2.82 billion.
For the fourth quarter of 2020, the Company expects total net revenues to be between RMB19.2 billion (US$2.8 billion) and RMB20.2 billion (US$3.0 billion), representing an increase of approximately 33.5% to 40.5% from the same quarter of 2019. This business outlook reflects the Company's current and preliminary view on the business situation and market condition, which is subject to change.
For earnings history and earnings-related data on KE Holdings Inc. (BEKE) click here.