JPMorgan (JPM) to increase the quarterly common stock dividend to $1.00 per share, up from $0.90 per share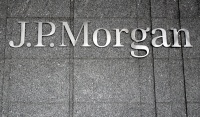 Price: $143.77

-0.86%
Overall Analyst Rating:
NEUTRAL
(
Down)
Dividend Yield: 2.9%
Revenue Growth %:
+20.8%
JPMorgan (NYSE: JPM) announced today that it has completed the Federal Reserve's 2021 Comprehensive Capital Analysis and Review ("CCAR") stress test process. The Firm's indicative Stress Capital Buffer ("SCB") requirement is 3.2% (down from the current 3.3%) and the Firm's minimum Standardized Common Equity Tier 1 capital ratio is 11.2% (down from the current 11.3%). The Federal Reserve Board will provide the Firm with its final SCB requirement by August 31, 2021, and that requirement will become effective on October 1, 2021 and will remain in effect until September 30, 2022.
JPMorgan Chase's Board of Directors intends to increase the quarterly common stock dividend to $1.00 per share (up from the current $0.90 per share) for the third quarter of 2021. The Firm's quarterly common stock dividends are subject to approval by the Board of Directors at the customary times that those dividends are declared.
The Firm continues to be authorized to repurchase common shares under its existing common share repurchase program previously approved by the Board of Directors.
Jamie Dimon, Chairman and CEO of JPMorgan Chase said: "The Federal Reserve's hypothetical CCAR stress test once again showed that banks continue to have strong capital levels and could withstand an extreme outcome while continuing to support the broader economy. Our longstanding capital hierarchy remains the same – invest in and grow our market-leading businesses to support our clients, customers and communities, pay a sustainable dividend, and return any remaining excess capital to shareholders. The Board's intended dividend increase represents a higher level of sustainable capital distribution to our shareholders, thanks to the combination of strong financial performance and consistent investment in our businesses."