Darden Restaurants (DRI) Acquires Ruth's Hospitality Group (RUTH) For $21.50/sh or $715M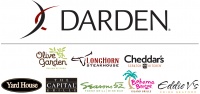 Darden Restaurants, Inc. ("Darden") (NYSE: DRI) and Ruth's Hospitality Group, Inc. ("Ruth's") (Nasdaq: RUTH), jointly announced today that they have entered into a definitive merger agreement pursuant to which Darden will commence a tender offer to acquire all of the outstanding shares of Ruth's for $21.50 per share, in an all-cash transaction with an equity value of approximately $715 million. Ruth's, owner and operator of Ruth's Chris Steak House ("Ruth's Chris"), will complement Darden's portfolio of differentiated brands which currently includes Olive Garden, LongHorn Steakhouse, Yard House, Cheddar's Scratch Kitchen, The Capital Grille, Seasons 52, Bahama Breeze and Eddie V's.
Ruth's Chris was founded in 1965 in New Orleans, Louisiana, by Ruth Fertel and features signature USDA Prime steaks served sizzling on 500-degree plates, New Orleans-inspired sides and an award-winning wine list. Ruth's Chris has 154 locations around the globe, including 80 company-owned or -operated restaurants and 74 franchised restaurants, generating systemwide sales of over $860 million, total revenues over $500 million, and average annual restaurant volumes for company-owned or -operated locations of $6.2 million in Ruth's fiscal year 2022.
"Ruth's Chris is a strong and distinctive brand in the fine dining segment with an impressive history of delivering elevated dining experiences to their loyal guests," said Darden President and CEO Rick Cardenas. "It fits the criteria we have for adding a brand to our portfolio and supports our winning strategy. Ruth's Chris is a great complement to our portfolio of brands, and I'm pleased to welcome their nearly 5,000 team members to Darden."
Cheryl Henry, President, CEO and Chairperson of Ruth's, stated, "We are excited about the opportunity to join the Darden family. Our strategy and operating philosophy aligns well with Darden, and we have a strong cultural fit that should ensure a smooth transition. This transaction will also provide more opportunities for our team members to develop in their careers as we continue to grow our 57-year-old iconic brand."
Highlights
Darden has agreed to acquire Ruth's for $21.50 per share, with a total transaction equity value of approximately $715 million, representing a 34% premium to the May 2 closing price and a 32% premium to the 30-day volume weighted average price.
Purchase price represents a 9.4x implied multiple of Ruth's fiscal year 2022 Transaction Adjusted EBITDA.*
Darden expects pre-tax synergies of between $5 and $10 million within the first year, and between $15 and $20 million in the second year.
Total acquisition and integration-related expenses are expected to be approximately $55 to $60 million.
Expected to be accretive to Darden's diluted net earnings per share in fiscal year 2024 by approximately 10 to 12 cents, excluding acquisition and integration-related expenses.
Transaction is expected to be completed in June, subject to satisfaction of customary closing conditions.
The transaction has been unanimously approved by the boards of directors of both Darden and Ruth's.
Cheryl Henry will continue to lead as President of Ruth's Chris and will report to Rick Cardenas.
* See the "Non-GAAP Information" below for more details, including Darden's definition of Transaction Adjusted EBITDA and a reconciliation to Ruth's Net Income.
Summary of the Transaction
Under the terms of the merger agreement, a wholly-owned subsidiary of Darden ("Merger Sub") will commence a tender offer to acquire all of the outstanding shares of Ruth's for $21.50 per share in cash. This represents a premium of approximately 34% to Ruth's closing stock price on May 2, 2023 and a premium of approximately 32% per share to Ruth's 30-day volume-weighted average price. Ruth's board of directors unanimously recommends that Ruth's stockholders tender their shares in the tender offer. Additionally, all of Ruth's directors and executive officers have (subject to certain terms and conditions) agreed to tender their shares, representing approximately 4.4% of Ruth's outstanding common stock, in the tender offer.
Darden has sufficient liquidity to complete the all-cash transaction without obtaining additional financing. Darden expects to continue to maintain a strong balance sheet and have sufficient capital to achieve its stated capital allocation priorities of maintaining existing restaurants, growing new restaurants and returning capital to shareholders through dividends and strategic share repurchases.
The closing of the tender offer will be subject to certain conditions set forth in the merger agreement, including the tender of shares representing at least a majority of the total number of Ruth's outstanding shares, the expiration or termination of the applicable waiting period under the HSR Act and other customary conditions. Upon the successful completion of the tender offer, Darden will acquire all remaining shares not tendered in the tender offer through a second-step merger at the same price per share.