What Will Happen to Ethereum (ETH) Miners Post the Merge? JPMorgan Looks at Options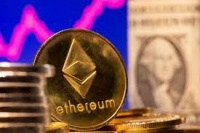 ---
Get inside Wall Street with StreetInsider Premium. Claim your 1-week free trial here.
---
Ethereum (ETH) has reportedly completed a final test run ahead of the widely-anticipated upgrade that is seen as one of the most important events in the history of cryptocurrencies.
Ethereum developers have been working for years to shift to a new model of securing the network, known as Proof-of-Stake (PoS). For years Ethereum had been using the Proof-of-Work (PoW) method, which is much more energy intensive.
The "Merge" - the date when the existing PoS-based Beacon chain will be merged with the existing Ethereum blockchain - is now very likely to take place next month.
JPMorgan strategist Nikolaos Panigirtzoglou has weighed in on options that Ethereum miners will have after the Merge. He says mining rigs are likely to be used to mine compatible digital assets, such as Ethereum Classic, Ravencoin, Ergo, etc.
"As the popularity of ETH mining is also due to its profitability, moving to other cryptocurrencies could see some hit to profitability at least in the near-term," the strategist warns.
Moreover, Panigirtzoglou also sees another risk, which arises once a sudden shift of large mining pools to a different cryptocurrency takes place, as that process could squeeze margins for existing miners.
"For example, according to some Ethereum miners, if all Ethereum GPU miners were to move over to Ravencoin the price of the coin would have to appreciate by around 10 times in order for miners to remain profitable," the strategist added.
All in all, Panigirtzoglou believes that the most likely outlook is that existing ETH miners will "distribute their mining rigs across different networks that support GPU mining as well as other applications to get salvage value."
Options are more limited for smaller, individual, operators. JPMorgan strategist sees three possible options for them:
Shift to mining other compatible cryptocurrencies,
Sell their hardware to other miners already operating in mining other cryptocurrencies, and
Repurpose rigs for other applications that require GPU resources such as graphics rendering, machine learning or gaming applications.
Finally, the bank's strategist also addressed speculation about some unhappy ETH miners demanding a hard fork. Panigirtzoglou says the development of this type would be "disruptive."
By Senad Karaahmetovic