Last Week Marked The Largest Telecom Outflow Ever - BofA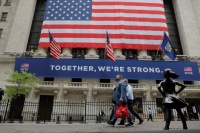 ---
Get inside Wall Street with StreetInsider Premium. Claim your 1-week free trial here.
---
The Bank of America's Flow Show noted that flows into equities slowed in the last week amid growing fears of not-so-transitory inflation pressures.
Investors poured $11.8 billion into stocks and "only" $77 million into bonds, in the week to Wednesday, the bank said. A pause comes as YTD equity inflows stand at about $800 billion.
"US small business labor shortages & wage pressures worst in 50 years = we are on cusp of policy pivot from pro-growth to anti-inflation (policy mistake has already happened...>$30tn of global stimulus ending in inflation)," BofA's Chief Investment Strategist Michael Hartnett said in a client note.
As far as the particular sectors are concerned - tech, financials, and energy recorded strong inflows but the previous week also marked the largest telecom outflow ever ($1.1 billion).
"The bear case is pandemic ending and so is $30 trillion of emergency policy stimulus and more bearish Wall St positioning reflects concerns regarding inflation and China," noted Hartnett, before adding that the despite typical year-end rally expectations, "we say "sell it"...2022 surprise = rate hikes = +ve volatility, -ve credit, stocks, crypto."
"2020 "growth shock" (policy panic causing V-shape recovery on Wall St & then economy)...stocks were the winner; 2021 "inflation shock" (demand for goods, services, labor, housing up big, supply not so much)...commodities (& crypto) the winner; "rates shock" in 2022 (Fed hikes as monetary policy tightening spreads from EM to DM)...volatility the likely winner (also US dollar in H1...with likely losers being credit, stocks, tech, Wall St)," the strategist added.
The S&P 500 futures are up over 0.3% in pre-open Friday.