Costco Q3 results trail estimates on a one-time charge; Goldman remains bullish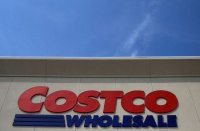 (Updated - May 26, 2023 4:48 AM EDT)
Investing -- Costco (NASDAQ: COST) reported fiscal third-quarter results that missed Wall Street estimates to send its shares almost 1% lower in pre-market Friday.
The company attributed weaker-than-expected results to a $0.50 per share one-time charge to discontinue charter shipping activities.
Costco reported fiscal Q3 earnings of $2.93 per diluted share on revenue of $53.60 billion, missing estimates for $3.32 and revenue of $54.61 billion.
Merchandise costs and selling, general and administrative costs were up about 1% each in Q3 year on year, weighing on the bottom line. E-commerce sales were down 7.8% in the quarter.
Adjusted comparable sales in the quarter increased 3.5%, with the bulk of the sales generated in the U.S. and Canada, up 1.8% and 7.4% respectively, while international was up 8.4% in the quarter.
Goldman Sachs analyst Kate McShane reiterated a Buy rating on Costco and raised the price target by $10 to $545 per share as the Q3 miss was largely due to a one-time charge.
"We continue to have confidence in COST's value proposition resonating with consumers, while the company's scale and limited SKU model enable it to manage cost pressures," McShane said.
Roth MKM analyst Bill Kirk is less positive as he believes the company is facing several headwinds, including slowing of inflation benefits, pressured discretionary/big-ticket items, and an increase in competitive promotional activity. The analyst cut the price target by $11 to $482 per share.
"With a membership fee increase seeming less imminent and the commentary around quickly sharing deflation, we continue to think valuation is stretched," Kirk wrote in a note.
Additional reporting by Senad Karaahmetovic