Bernstein Analyst Highlights His Tesla (TSLA) Experience: 'I am not sure whether I will ever purchase another vehicle again from Tesla'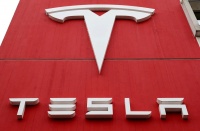 ---
Get instant alerts when news breaks on your stocks. Claim your 1-week free trial to StreetInsider Premium here.
---
Shares of Tesla Inc. (NASDAQ: TSLA) are up 0.41% in pre-market trading Friday, ahead of the electric vehicle company's AI day and 3Q earnings release.
Senior analyst, Toni Sacconaghi of AB Bernstein wrote a note detailing his personal experience with the automaker. Sacconaghi highlights several issues with Tesla's execution of delivery and customer service.
Sacconaghi wrote in the note: "My family took delivery of a Tesla Long Range Model Y in September. It was our third Tesla (we leased a Model X from 2016-2019, and a Model 3 from 2019 to 2022). Our ordering and delivery experience marked a new low in our customer experience with any auto company, and the experience so negatively shaped my sentiment of the company that I am not sure whether I will ever purchase another vehicle again from Tesla. Commentary from other Tesla owners in various online forums and user groups, as well as our friends' experiences with Tesla, reaffirm that our experience was not altogether unusual."
The analyst waited 11 months from time the vehicle was ordered until the car was finally delivered. The order took place in September 2021. The delivery date was initially targeted for January 2022. According to Sacconaghi, the delivery times moved every few weeks. The vehicle was finally delivered in September 2022 – one full year later.
"We had to extend a lease on our existing Model 3 because we couldn't get any visibility on when we might get the car." Sacconaghi wrote. Tesla owner groups report that delivery changes appear completely spurious and have occurred up to the day of scheduled delivery.
Sacconaghi also highlighted failures with the company's customer service. "Most notably, nearly every step of the Tesla ordering and delivery experience felt completely impersonal and unpredictable, with no ability to connect with a Tesla representative."
Almost all communication with the company was through text messaging. Moreover, the text line was manned by various people at, so there was no continuity and - at times - conflicting statements made.
"The upshot was that no one really took ownership for my Tesla experience, and as a result, no one appeared to care whether I had a satisfactory experience with the company or not."
A customer in the Model 3 Owners' Group posted: "Dear Elon… Your cars are incredibly well thought out and set a new benchmark for thinking outside the box. Your manufacturing is absolutely brilliant. Your supercharging network and function is 10 years ahead of what anyone else might come up with. But services is a big concern… you won't need plants that can produce 2 million cars a year if the word gets out that your service and support is going downhill."
By Michael Elkins | [email protected]