Tesla (TSLA) Pressured on...Months-Old Article?
Is Tesla Motors (Nasdaq: TSLA) stock being pressured due to a faulty article post?
According to the latest screenshot from the Yahoo! Finance Tesla Motors page (embedded below), the top story is from Marketwatch with the headline, Tesla burning! Another fire drill for investors. That article is here.
What's curious is that the article is from November 7, 2013, when a slew of Model S fires were being reported. Yet, somehow it is recorded as being posted at 2:17pm EDT today.
While it's not clear how that article made it to the top of the page, just remember to always check the timestamp of an article.
Shares of Tesla are down 0.1 percent.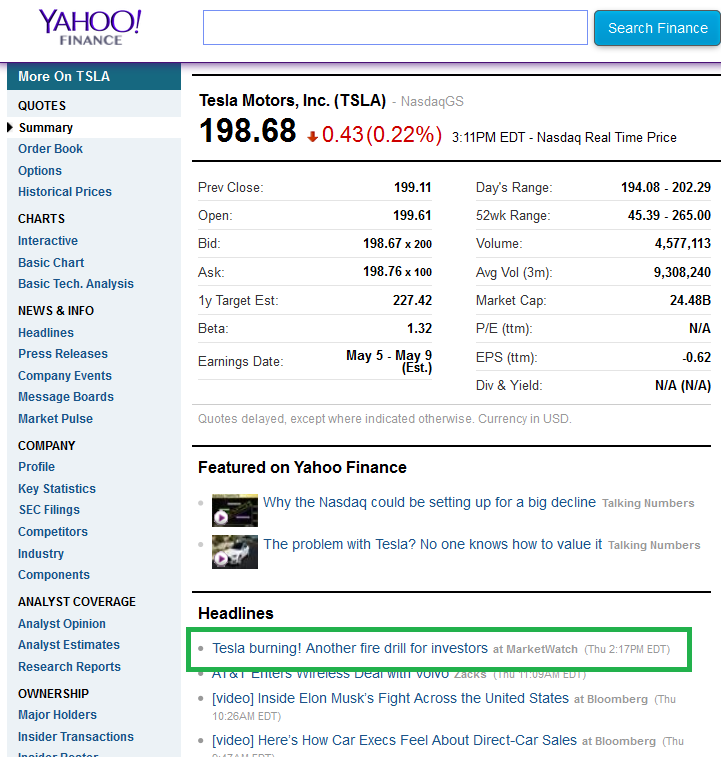 Microsoft (MSFT) Plans Update for Xbox Music on WP8.1 Next Week
Microsoft (Nasdaq: MSFT) just released its Windows Phone 8.1 developer preview earlier this week (April 14th). And, now the company is planning to update its 8.1 Xbox Music app for WP8.1, something the developers have been commenting still needs some work. That update is expected out next week.
The following is from answers.microsoft.com:
The Developer Preview for WP8.1 was released on Monday April 14th, and with it the Xbox Music build 2.5.1330 for Windows Phone 8.1. Information on this Phone Developer Preview OS can be found @ https://dev.windowsphone.com/en-us/develop/devpreview
And for those Xbox Music users running the WP8.1 Developer Preview, starting next week you will start to see the first update in the Windows Phone Store for the 8.1 Xbox Music application, followed by ongoing updates every two weeks. We want to hear your feedback on the new Xbox Music app so we can continue to incorporate it into the product. We encourage you to comment on this forum post and/or enter and vote for features you would like to see on our User Voice site @ http://xboxmusic.uservoice.com/forums/209733-xbox-music-suggestion-box/category/67365-windows-phone
Here is what's coming in WP8.1 Xbox Music application update week of April 22nd.
Numerous stability fixes, including many of the reported black screens
Cortana integration is complete and now supports playing playlists by name
UI polish to improve animations and transitions between UI views
Improved messaging for encountered errors, such as unplayable content in collections
Background initial sync of local and cloud content
What more to expect in the coming releases?
Based on initial feedback we have received through developer preview forums, we continue to prioritize features you are asking for and issues impacting your experiences. Things you can expect to see over the next few bi-weekly releases include:
Continued focus on

Stability

and

Performance

Live Tile integration
Quickplay improvements, including "recent" lists
Kids Corner Support
UX improvements (Search result grouping, creating new Radio Stations, improved Network status messages, Blue UI language alignment, now playing improvements and more)
We will keep updating this forum with ongoing release information, and please, keep the feedback coming.
Daimler Begins Production on Tesla-Partnered B-Class EV Minivan (TSLA)
Tesla MOtors (Nasdaq: TSLA) is just positive Thursday on a low-volume trading session.
Notably, Daimler's Mercedes-Benz has just begun production on its B-series minivan, the B-class Electric Drive.
According to AutoNews, the B-class Benz will have a driving range of about 124 miles and top speed of 100 mph. Acceleration from zero to 62 mph will click by in 7.9 seconds.
The B-class was developed in partnership with Tesla. Tesla built the front-mounted electric motor which powers the car. The motor produces 174 hp, more than the BMW i3. Powering the vehicle is a 28-kWh battery built by Tesla.
Prices on the vehicle haven't been released.
Shares of Tesla are up 0.2 percent.
Sony (SNE) PS4 Sales Surpass 7M Unit Milestone
Sony Corporation (NYSE: SNE) has officially surpassed the seven million unit sales mark for its PlayStation 4 (PS4) gaming console. The following was posted to the official PlatStation site on Wednesday:
Hi guys! I've got a quick update to share with you. Sony Computer Entertainment, Inc. just announced that PS4 has cumulatively sold through more than 7.0 million units globally as of April 6th, 2014. PS4 software sales are another bright spot, with more than 20.5 million copies sold at retail and PlayStation Store worldwide as of April 13th, 2014.
On behalf of the entire global team at PlayStation, I want to thank you for your unprecedented support and for making PS4 your next-generation console of choice. We couldn't have done this without you! And please keep the feedback coming: we are listening.
On that note, we'll have some great new details to share with you regarding our upcoming PS4 system software update very soon. Stay tuned!
Microsoft's (MSFT) Bing: This Time, It's Getting Personal. No, Really
Microsoft's (Nasdaq: MSFT) Bing.com is getting more personal.
The following was posted to the Bing Search blog on Thursday by Chen Fang, Program Manager, Bing:
At Build, we previewed Cortana powered by Bing which will ship with the upcoming release of Windows Phone 8.1. One of the things that makes Cortana so helpful is her ability to learn about your preferences and interests. As we talked about last week, it is the Bing platform that makes this possible, earned through years of machine learning and big data experience doing web search
Starting today, we are unveiling a set of personalized cards on the Bing homepage that will help you keep track of things that matter to you. Set up your interests in Bing settings and you will start seeing personalized news, weather, flights, and stocks with more to come - all as part of the search experience.
Let's see how this works.
Sign in to your Microsoft account and set-up your interests to let Bing know what it should track. Then, when it's appropriate, Bing will let you know if for example your stock changes or flight is delayed.
The best part? As long as you're signed in, Bing will remember your interests and notify you, as appropriate, across a range of Bing-powered Microsoft services, such as Cortana and the Bing Sports app, for example.
You can learn more and set your interests here on Bing.com.
More Insiders' Blog
View Older Stories
View Older Stories