Icahn 'Pleased' with Apple (AAPL) Results, Agrees with Raised Buyback
Carl Icahn is out commenting on Apple, Inc. (NASDAQ: AAPL) following strong earnings, a 7-for-1 stock split and a raised capital return plan.
On Twitter Icahn said, "Agree completely with $AAPL's increased buyback and extremely pleased with results. Believe we'll also be happy when we see new products."
Berkshire's (BRK-A) Buffett Opposes Proposed Coca-Cola (KO) Employee Stock Compensation Plan
Berkshire Hathaway (NYSE: BRK-A)(NYSE: BRK-B) chairman Warren Buffet is voting against a stock award plan proposed by Coca-Cola (NYSE: KO).
According to Bloomberg, Buffett has abstained from a compensation plan vote today, though preliminary results have 83 percent of votes cast supporting the plan.
Money manager David Winters and Berkshire asked Buffett -- the largest shareholder of Coca-Cola -- to oppose the measure, saying it violated his investing principles.
Buffett, speaking on CNBC today, still likes Coca-Cola, he said he simply didn't agree with the plan.
Shares of Coca-Cola are flat Wednesday afternoon.
Microsoft (MSFT) Windows Phone 8.1 at 3.1% Adoption Rate in First Week
AdDuplex released the following updated information for Microsoft's (Nasdaq: MSFT) Windows Phone, including the just-reased version 8.1.
Accoridng to the latest data, about 3.1 percent of Windows Phone users are already on 8.1. About 18.9 percent are still on Windows Phone 7 and 78.0 are using Windows Phone 8.0.
Aside from adaption rate, Nokia (NYSE: NOK) is still the number one WP handset provider. The following shows global WP handsets through the middle of April 2014: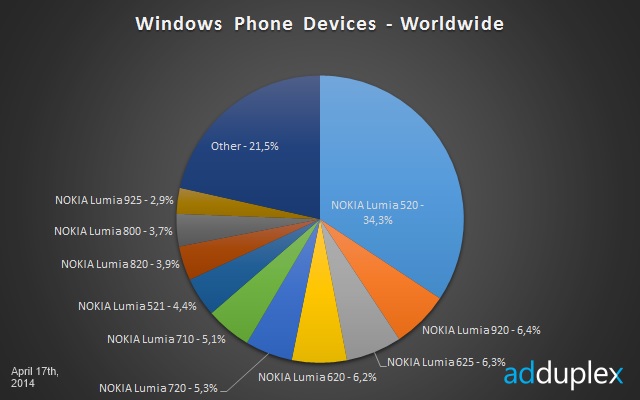 Google, Inc. (GOOG) Releases Older Street View Images
Google, Inc. (Nsdaq: GOOG) is allowing users to 'go back in time' by releasing older Street View images. The following was posted by Vinay Shet, Google Street View Product Manager, to Google's official Google Maps blog today:
If you've ever dreamt of being a time traveler like Doc Brown, now's your chance. Starting today, you can travel to the past to see how a place has changed over the years by exploring Street View imagery in Google Maps for desktop. We've gathered historical imagery from past Street View collections dating back to 2007 to create this digital time capsule of the world.
Now with Street View, you can see a landmark's growth from the ground up, like the Freedom Tower in New York City or the 2014 World Cup Stadium in Fortaleza, Brazil. This new feature can also serve as a digital timeline of recent history, like the reconstruction after the devastating 2011 earthquake and tsunami in Onagawa, Japan. You can even experience different seasons and see what it would be like to cruise Italian roadways in both summer and winter.
Forget going 88 mph in a DeLorean—you can stay where you are and use Google Maps to virtually explore the world as it is—and as it was. Happy (time) traveling!
Mohammed El-Erian Not Ready to Discuss Current Relationship with Bill Gross
In his first interview since leaving PIMCO, Dr. Mohammed Aly El-Erian told Bloomberg's Betty Liu this morning that he is very surprised by the media attention he received around his departure and the reason he left was "to interact with others," to "step back", "to do something different," spend more time with his daughter and travel less.
The Bloomberg View columnist said of his former partner Bill Gross, "I have had the privilege of watching him in action and he is a great investor…He is part of a talent pool, and enormous bench at PIMCO." But El-Erian would not comment on the state of current relationship with Gross by saying "I will not comment on my private interactions."
Dr. El-Erian also said:
He would rather observe than emulate Neel Kashkari
He reaffirmed new normal; specular stagnation thesis
Debt overhand is discouraging new investment
Yellen recognizes consequence of monetary policy more
U.S. economy is healing
Fed won't raise rates 'for a while'
Chinese economy won't grow at 9-percent again
He 'may well' invest in Scott Saunders' start-up
He discovered Twitter's incredible ecosystem
Planned book is about Central Banks role
He is staying miles away from politics
More Insiders' Blog
View Older Stories
View Older Stories