Insiders' Blog
Thoughts on hot market topics from the staff at StreetInsider.com
Sarepta Therapeutics (SRPT) Eteplirsen Dosing Said Delayed Until Oct./Nov.
(Updated - September 19, 2014 3:23 PM EDT)
Sarepta Therapeutics (NASDAQ: SRPT) eteplirsen trial start delay until Oct./Nov., according to the Boston Business Journal.
UPDATE - Sarepta CEO Chris Garabedian previously said the eteplirsen trial would begin in September. The firm has already begun enrolling50 to 80 patients.
Eteplirsen is a proposed treatment for Duchenne muscular dystrophy (DMD).
During an interview today, Garabedian said Initiating five new treatment studies requires a significant effort to prepare, and we're doing all of this as fast as we can .. There's a lot that we're trying to accomplish in a short period of time.
News comes as Prosensa Holding N.V. (Nasdaq: RNA) announced earlier this week that a comprehensive program of re-dosing has commenced, with the first patients now re-dosed in the United States. All dosing in the drisapersen clinical program had been placed on hold by GSK on September 20, 2013, upon announcement of the DEMAND III study results.
Sarepta is down 4 percent Friday.
Tesla Motors (TSLA) Releases Software v6.0 Update
Tesla Motors (NASDAQ: TSLA) made the following announcement on its blog today:
Today, we're announcing details about new software being delivered to Model S customers through an over-the-air update. The new features further personalize the Model S ownership experience and help make the car smarter about owners' individual preferences. This is the latest in a series of software updates issued since we launched Model S in 2012, enabling new features such as hill start assist, smart suspension controls, and energy saving sleep mode.
The Software v6.0 update introduces traffic-based navigation and commute advice, provides an in-car view of daily schedules, enables location-based air suspension settings, and allows owners to name their Model S and start it remotely using their mobile phone.
New features include:
Traffic-Based Navigation (BETA)
The Model S navigation system will be a lot smarter. Navigation will now provide route suggestions based on real-time traffic and calculate estimated travel times accordingly. It will also update dynamically as traffic conditions change throughout your trip. This feature will also take into account traffic data shared by other Tesla vehicles on the road.
Commute Advice
Navigation isn't particularly useful when commuting between home and work because most of us usually know the way. But if traffic has an effect on a typical route, it's helpful to know in advance. Now, Model S will monitor traffic before you even start your weekday commute and alert you with a pop-up message on the 17-inch touchscreen when a faster route is available.
Calendar (BETA)
Model S will synch with your smartphone to bring you a large in-car view of your daily schedule. If you've already set locations for particular events, you don't have to worry about re-entering the details into your car's navigation system. Instead, you can just tap on the event in your calendar to bring up route directions.
Remote Start
You will have the ability to start your Model S using only your smartphone. This function, which is particularly useful if you forget your key fob, will be accessible through the Tesla mobile app and requires you to input your password for each use.
Location-Based Air Suspension
If you regularly drive on roads or driveways that require higher than normal clearance, your Model S will remember where you previously selected high ride heights and automatically adjust the air suspension at those locations. This feature will be especially handy for people who have steep driveways. (Model S must be equipped with air suspension for this function to work.)
Name Your Car
You can now make your Model S nickname official. The car's name will appear in the Tesla mobile app and in the About Your Tesla section on the touchscreen.
Power Management Options
A new power management option will put Model S into energy saving mode at night to help maximize available energy. There'll also be an option that allows the Tesla mobile app to always connect immediately to the car, while still saving power.
This software update represents Tesla's commitment to improving Model S for customers even long after it has left the assembly line. With each update, Model S becomes more attuned and responsive to its owner's needs without requiring excessive user input. We will continuously fine-tune the software and work on new features in response to customer feedback.
NYSE Welcomes Alibaba (BABA) (In Pictures)
With its announcement welcomining the Alibaba (NYSE: BABA) IPO, the NYSE released some great pics from the event:
Opening Bell: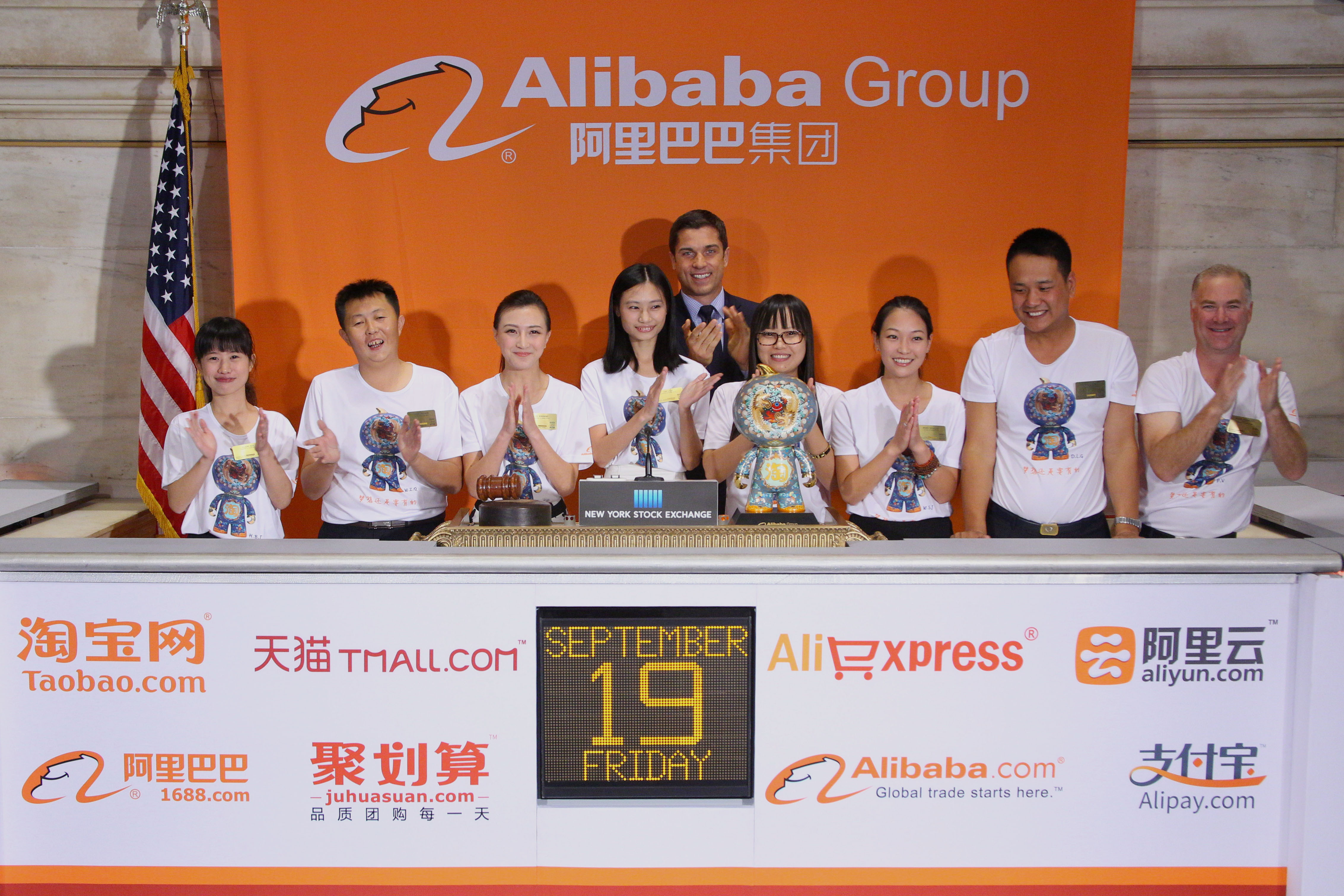 NYSE TRADING POST HANDLING THE OPENING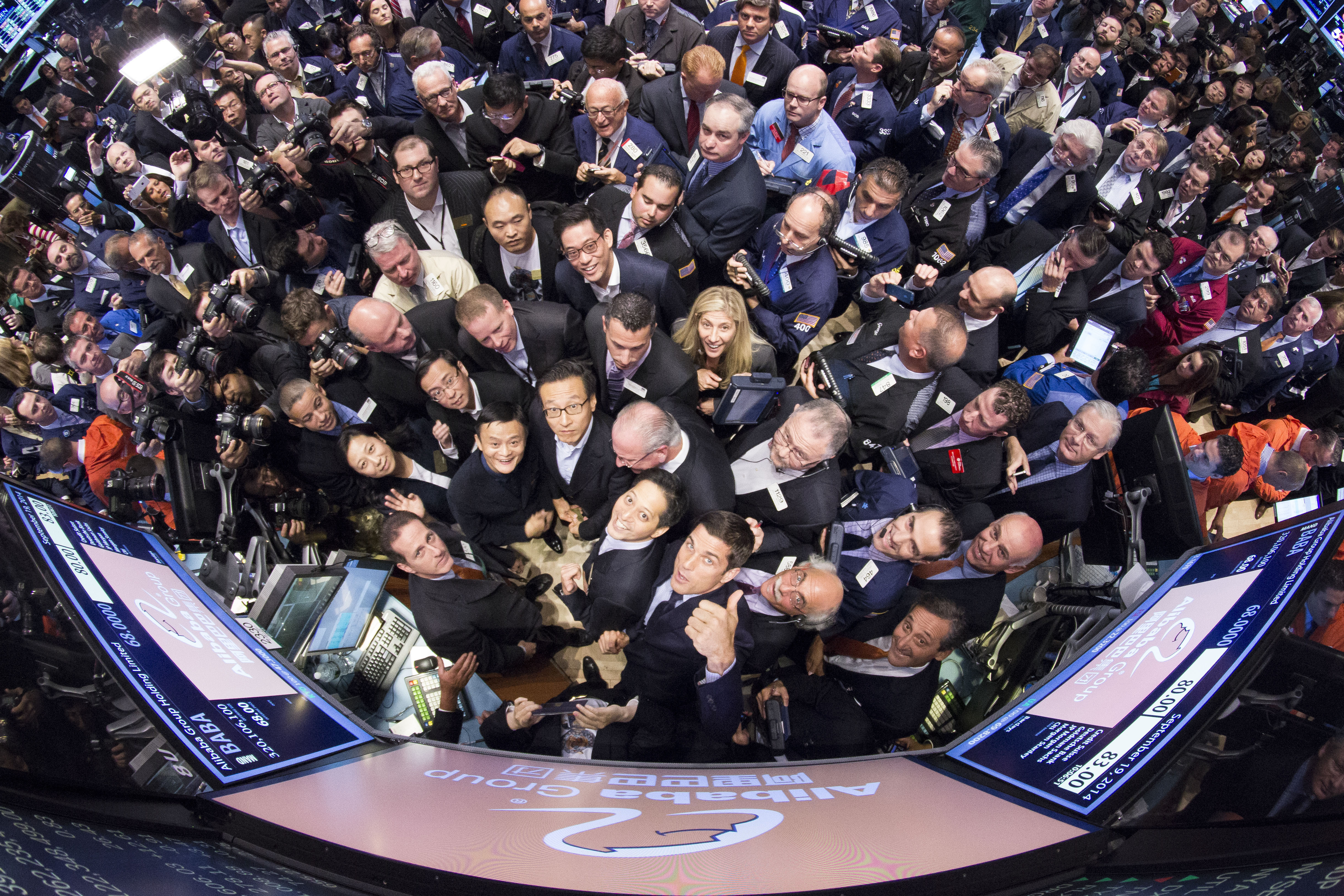 FRONT OF NYSE BUILDING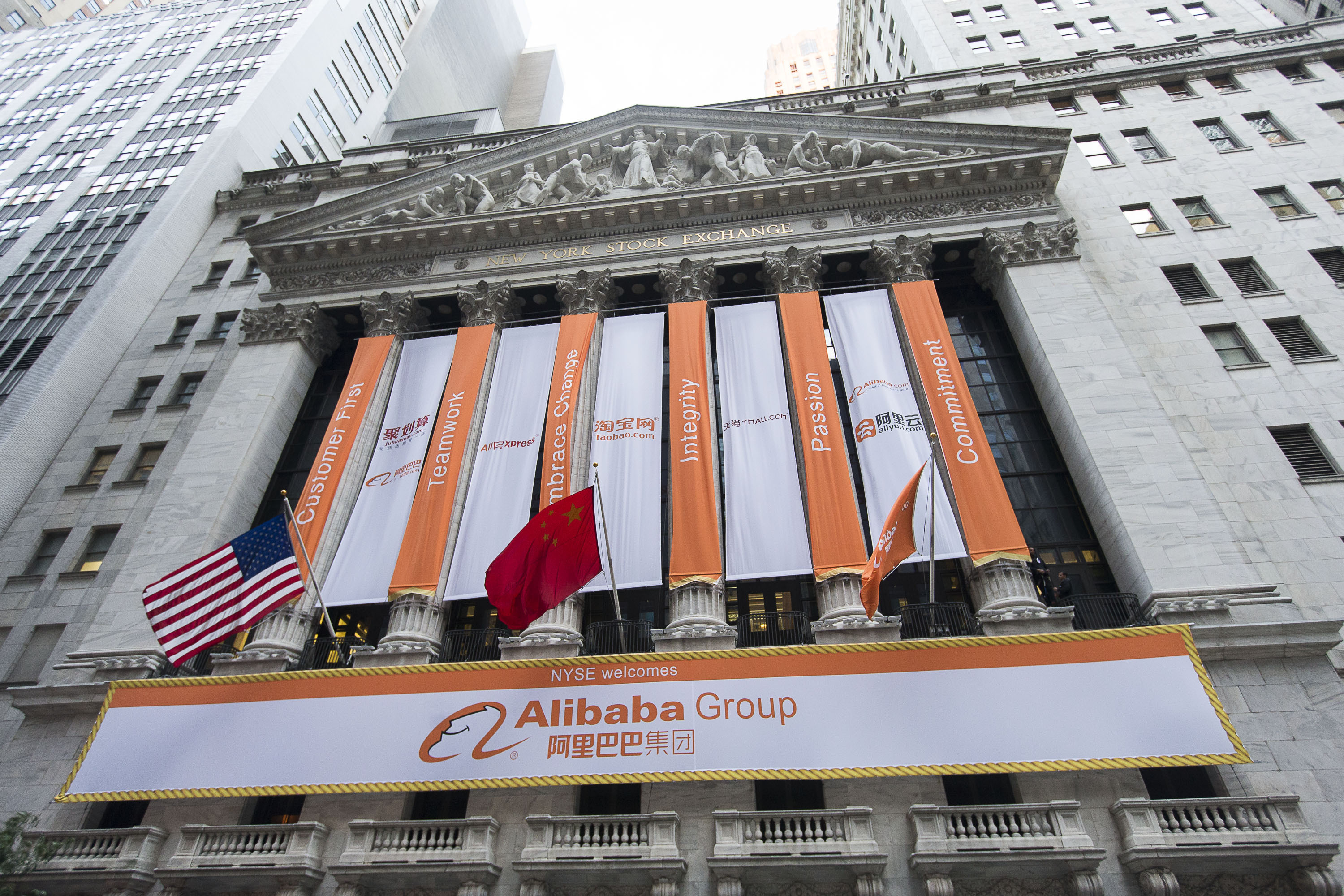 ALIBABA CEO JACK MA CELEBRATING THE OPENING PRINT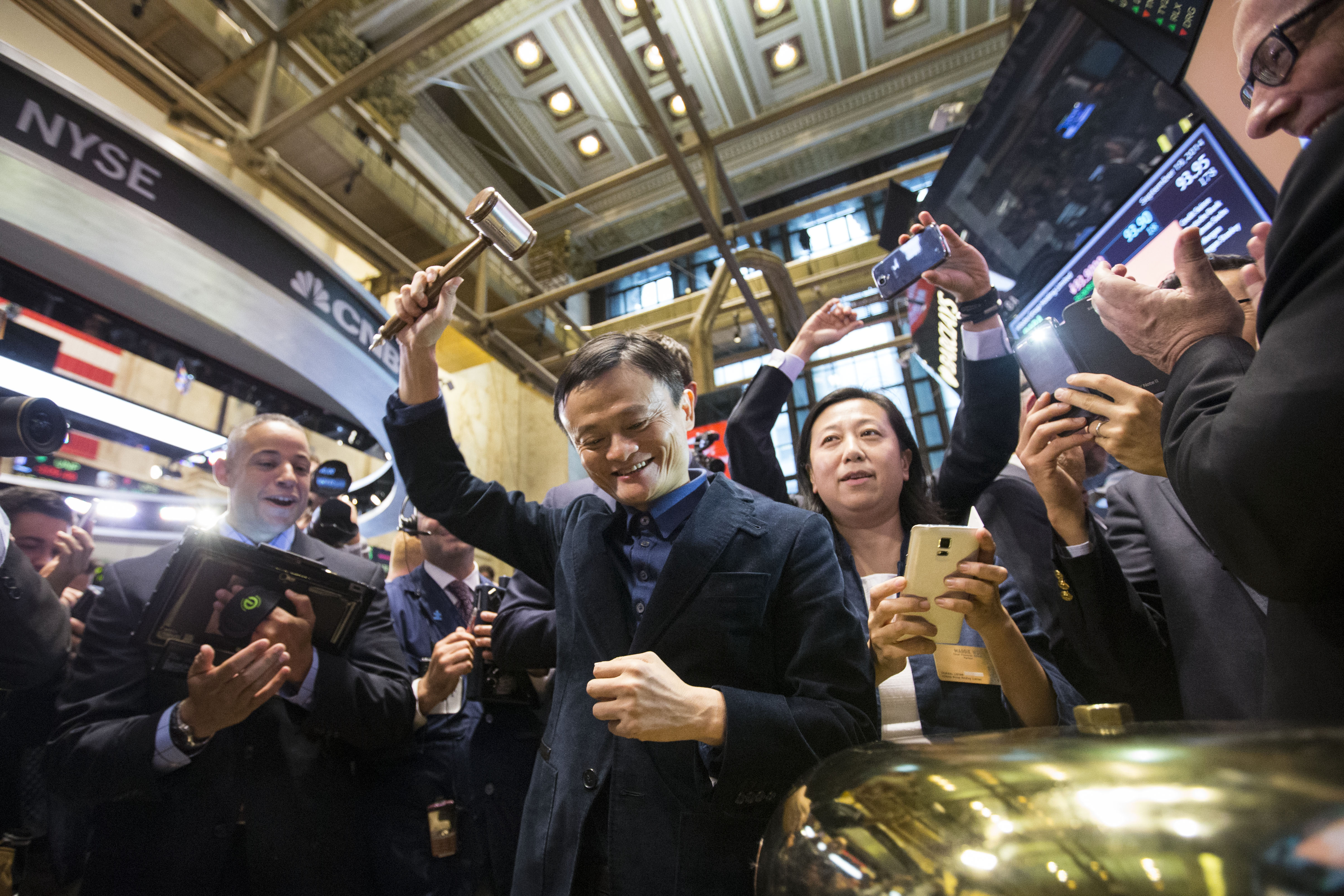 Fed's Fisher Talks Alibaba, FOMC Meeting, More..
Dallas Federal Reserve President Richard Fisher spoke with FOX Business Network's (FBN) Maria Bartiromo about the Alibaba IPO today, saying Executive Chairman Jack Ma "is selling into a market that is very rich; we have helped make it so at the Federal Reserve" and that it is "good timing, I would say, smart guy." Fisher went on to comment about his dissenting at the Federal Reserve meeting this week saying, "I'm not worried about inflation right now" and that "I do think there are some signs of excess in the financial markets." When asked about rate hikes Fisher said, "I personally expect it to occur in the Spring and not in the Summer."
Excerpts from the interview are below:
On Alibaba:
"He is of course selling into a market that is very rich; we have helped make it so at the Federal Reserve. I think my personal view, having been in the business is, of course, you never fight the Fed, but we have been extremely helpful. Remember after that March '09 bottom, we've come up over 2.5 times. So good timing, I would say; smart guy. And the question is, of course, how long is this going to be sustained and the markets will make that decision."
On when he sees rates rising:
"I personally expect it to occur in the spring and not in the summer as it seems the markets are discounting. But we will see. I think that would be wiser; it depends, as Chairman Yellen said, on the developments in the economy."
On why he dissented at the Federal Reserve meeting this week:
"Look, contrary to what everybody says, I am not worried about inflation now. In fact, my statement said I was aware of the price stability. What I am concerned about is the fact that employment has improved significantly. We got very good numbers yesterday. This is like duck hunting, you shot ahead of the mallard rather than try to get it from behind, otherwise you can't hit it. And we have to lead on this front. So there is that issue, which is we have improving employment…And the second is I do think that there are some signs of excess in the financial markets… from a market standpoint, you are being deceived. Things getting a little bit rich, particularly -- even though the junk market spread has come off a little bit, we're seeing some GAAP downs and some junk issues. It's driven by ETFs. And when you get individual bids on individual bonds, I have seen some dramatic behavior recently. Now these are lousy companies. That's why they're triple Cs. But they're begin to see a little fissures. And that concerns me and I don't want to drive this any further. And I think we have to be aware of this and I personally would want to see the date of our first move."
On raising rates:
"I'm in a slow and gradual school, I think it would be a mistake to wait too long and then raise rates rapidly. So once we start raising rates, when the committee decides to do that, whether it's the spring or the summer or whatever it may be, I think it ought to be in quarterly increments, slow and deliberate and we just have to adjust and feel how the economy comes. If we wait too long and we raise rates steeply, there is no time in history that I am aware of when the Fed has done that it hasn't driven the economy into a recession. And what I worry about is that is the last thing we need…We're leading the world along with the U.K. in terms of our economy. Everyone else is not doing so well. I wouldn't want to get to the point where we act severely and we drive us back into a recession. And that is the history going all the way back, whenever we've raised rates too much after we've overshot the mark on employment."
On how to unwind the Federal Reserve's balance sheet:
"Very slowly…And Chair Yellen mentioned this. The plan by the committee now is to just not reinvest after a certain period once we start raising rates. Now that is the point of departure for me, by the way. I thought it was a natural for us once we stopped our purchases, which we said in the statement we will stop in October. That delights me personally, as you know. But it would have been a good time -- I argued at the table -- to begin reducing our reinvestment, it was a natural flow-through, before we announced we were going to raise rates whenever we decide to do that. But I lost that argument at the table and you have to respect the others that are there. I was alone, but I lost the argument."
On the housing market:
"Well, one of the things that happened is prices came up too fast. If you talk to housing builders, they will tell you this. Prices moved too far too fast. So there's a little bit of sticker shock. Secondly, there is a real problem with qualification, particularly with the younger generation, all these college loans that they have and qualifying to get permission to borrow money to invest in homes. There's a shortage of lots."
On whether there is shortage of skilled labor:
"One of the things they do not talk about, particularly the publicly traded companies, is a shortage of skilled labor. Now here, where we have a hot real estate market, you literally see armed guards posted around construction projects to keep people from poaching the labor force. It is astonishing. But there is a shortage of skilled labor. Mexicans build homes in America. I don't care if it is Bangor, Maine, or Portland, Oregon, or Dallas, Texas. That is immigration policy. I defy you to find a homebuilder that says mortgage rates are really the issue."
On the unemployment numbers:
"Yes, the numbers came back very hard and by the way, it is July numbers were readjusted upward. They're pretty attractive. So that's -- but that is something that people look at. If you look at the employment numbers and the claims numbers that came out yesterday, that surprised everybody by being so low, unemployment claims. So there is movement forward. This is good. The Fed should take some credit for it. It would be so much better if our fiscal authorities just get their act together."
On Scotland's Independence vote:
"I don't think it's over, by the way. They are get concessions for the government, and now the Welsh are going to ask for the same thing and the Irish will ask for the same thing. So Catalonians will ask for the same things. So this is an interesting little thing, but I'm glad, after 308 years of history, that they held it together. But they're going to get more powers and all power to them for getting it."
On President of the European Central Bank Mario Draghi:
"I mean, their process is they're just beginning it, the first takedown of those new instruments wasn't that robust. But remember, they're in a different stage of development than we are. Our central bank has been trying new techniques for quite some time. The real problem there, we have one dysfunctional government to deal with; they've got numerous governments that have different fiscal policies. So my sympathy is I think Mario is one of the great central bankers, he certainly knows the business from his Goldman Sachs background to his theoretical background, it's an unusual combination. I hate to comment negatively at all, so I'm just going to wish him well in this process. The backdrop there is from a fiscal standpoint is not very positive. You have disparate governments and of course you have France ,which is uber weak right now with a president that is even lower rated in the polls than ours."
ARIAD Pharma (ARIA) Director Whelan Resigns; Will CEO Berger be Next?
ARIAD Pharma (NASDAQ: ARIA) shares are up 2.3 percent Friday. After markets closed on Thursday, the company disclosed the following:
On September 13, 2014, Robert M. Whelan, Jr. notified ARIAD Pharmaceuticals, Inc. (the "Company") that he will resign from the Company's Board of Directors, effective October 1, 2014. Mr. Whelan has served as a director since April 2010 and currently serves as a member of the Audit Committee and the Compensation Committee. The Company, its leadership and its Board of Directors would like to thank Mr. Whelan for his many contributions to ARIAD, its shareholders and cancer patients.
Notably, infamous biotech blogger Adam Feuerstein sees an exit of CEO Harvey Berger happening sooner rather than later. You can see his latest blog post here.
More Insiders' Blog
View Older Stories
View Older Stories