Is Ben Bernanke Ready to Announce His Retirement?
While markets are keenly focused on Wednesday's FOMC statement and comments from the Federal Reserve on a potential tapering of QE later in the year, a bigger story is developing - the fate of Ben Bernanke himself.
While markets largely understand that there is a very good chance that Mr. Bernanke is on his way out after his term expires on January 31, 2014, he hasn't officially announced that he is retiring, leaving markets guessing.
To that point; is the market ready to deal with the ramification of his departure? What about his replacement?
In an interview overnight with PBS's Charlie Rose, President Obama discussed the matter and put the Bernanke-replacement talk in overdrive.
"Well, I think Ben Bernanke's done an outstanding job," President Obama said. "Ben Bernanke's a little bit like Bob Mueller, the head of the FBI - where he's already stayed a lot longer than he wanted or he was supposed to".
According to analysts at Compass Point Research, the comments from Mr. Obama "should remove any lingering doubt that Bernanke will remain at the Federal Reserve."
Compass Point believes the White House will announce a new Fed Chair nominee by this fall. Interestingly, the time period between Bernanke's nomination and his confirmation was about 100 and 150 days for the first and second term, respectively. Given that Bernanke's current term expires on January 31, 2014, they believe that the official White House announcement should occur by September. "Our expectation is that the White House will begin testing the waters regarding Bernanke's replacement shortly after his semiannual Humphrey-Hawkins testimony on July 17-18 and that the official announcement will occur before the fall," Compass Points' Isaac Boltansky said.
On Bernanke's replacement, the firm believes it is Janet Yellen's job for the taking. This despite the fact that she is decidedly more dovish than Bernanke.
"We believe that Yellen's candidacy benefits from three specific realities: (1) her experience on the FOMC since 2004; (2) the recent release of 2007 Fed transcripts which showed that Yellen was concerned about frothiness in markets prior to many of her colleagues; and (3) other openings on the FOMC allow the White House to craft a "Noah's Ark" nomination deal similar to ones it successfully used for the FDIC and the Fed during the last Congress," Boltansky states.
The "Noah's Ark strategy" is, in effect, a compromise which lets each party advance one nominee it prefers, the analyst explains. This strategy was used for current Fed Governors Jeremy Stein and Jerome Powell, they note.
"Our assessment of the FOMC's composition in 2014 shows that two seats are likely available for the White House to offer in a Noah's Ark confirmation strategy (highlighted below). To this end, the White House could offer Republicans two FOMC seats in exchange for confirming Yellen as the FOMC Chair. These individuals would presumably be more hawkish in their ideology. As the below table illustrates, the FOMC would likely remain dovish into 2014 even if the White House were to exchange two currently dovish seats in exchange for Yellen's confirmation."
In addition to Yellen, former Treasury Secretary Timothy Geithner has been mentioned as a replacement. BlackRock (NYSE:
BLK
) CEO Larry Fink is telling friends on the street not to rule out Geithner, according to FOX Business Network (FBN) Senior Correspondent Charlie Gasparino.
The retirement topic will likely come up in Wednesday's press conference and there is a camp that thinks Mr. Bernanke could be ready to announce his retirement sooner rather than later.
The FOMC statement is scheduled 2PM ET Wednesday, June 19 and the press conference is scheduled for 2:30PM ET.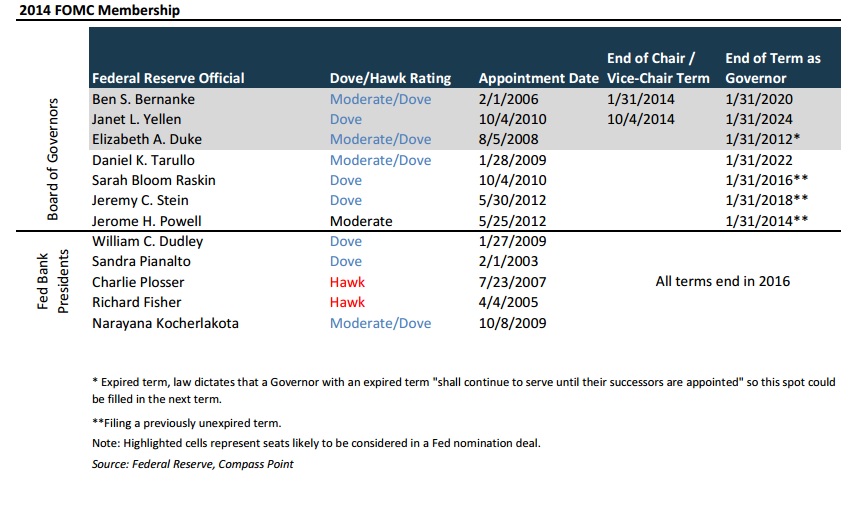 Fed
,
Insiders' Blog
,
Rumors
Related Entities
Charles Gasparino
,
Ben S. Bernanke
,
Federal Open Market Committee
,
Timothy Geithner
,
FDIC
,
Barack Obama

Sign up for StreetInsider Free!
Receive full access to all new and archived articles, unlimited portfolio tracking, e-mail alerts, custom newswires and RSS feeds - and more!