New York REIT (NYRT) Issues Response to WW Investors; Says Fund Continuing to 'Mislead' Shareholders Regarding Facts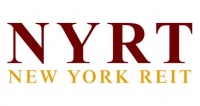 ---
Get daily under-the-radar research with StreetInsider.com's Stealth Growth Insider Get your 2-Wk Free Trial here.
---
New York REIT, Inc. (NYSE: NYRT), today issued the following statement in response to the letters issued on September 26 and 29, 2016 by Michael L. Ashner, Steven Witkoff, and their jointly owned entity, WW Investors LLC ("WW Investors"):
The NYRT Board Has Actively Engaged with WW Investors to Reach a Reasonable Settlement
NYRT maintains open communications with its stockholders and is firmly committed to serving the best interests of all stockholders. Over the past several weeks, NYRT's Nominating and Corporate Governance Committee (the "Committee") of its Board of Directors (the "Board") engaged in extensive discussions with WW Investors to reach a settlement with regards to WW Investors proposed director candidates and sought to work constructively with WW Investors.
As part of these discussions, and in an effort to avoid a potentially costly and distracting proxy contest, the Committee offered what it believes are reasonable terms – namely, that Messrs. Ashner and Witkoff be included on NYRT's proxy statement to be elected to the Board by NYRT stockholders and prior to being elected by stockholders they could attend all of the Company's board meetings and participate in those Board meetings as observers. As clearly communicated to WW Investors, the Committee believes that the election of directors is a matter to be determined by a vote of all NYRT stockholders. As such, the Committee believes that the terms offered are reasonable and Messrs. Ashner and Witkoff should be willing to stand for election by the stockholders with the other directors.
In its settlement discussions with Messrs. Ashner and Witkoff, the Committee also considered the potential for conflicts of interest in light of Messrs. Ashner and Witkoff's indication that they intended to participate in the Request for Proposal ("RFP") process for the management contract to operate the Company. As stated in their letter, Messrs. Ashner and Witkoff believe their role on the Board should include "…determining the award of the RFP…" Based on their assertion, we question how Messrs. Ashner and Witkoff would remain as independent directors given the significant conflict of interest created by their participation as bidders in the RFP process while simultaneously acting as Board members determining the outcome of such process. This inherent conflict between Messrs. Ashner and Witkoff's desire to be independent board members while at the same time bidding for the management contract, significantly affected the settlement negotiations.
As part of the proposed settlement terms, and contrary to the assertions made by Messrs. Ashner and Witkoff, the Committee remains open to discussing WW Investors' out-of-pocket third-party expenses and, in no way, summarily rejected the issue. To the contrary, the Committee communicated to Messrs. Ashner and Witkoff that it would agree to the reimbursement of WW Investors' expenses if such reimbursement was approved by NYRT stockholders. In fact, the Committee researched the issue of reimbursement of such expenses to determine standard practices, and these expenses were not reimbursed in a vast majority of studied cases in which a settlement was reached with a dissident stockholder. Messrs. Ashner and Witkoff continue to insist on immediate reimbursement with no shareholder vote. However, the Committee believes that it has offered the appropriate avenue to facilitate the reimbursement of expenses, if approved by stockholders.
The Committee believes that the terms offered to WW Investors are reasonable and fair. While the Committee remains committed to reaching an amicable resolution and is open to continuing to engage in productive discussions with WW Investors, we are disappointed in Messrs. Ashner and Witkoff's mischaracterizing our attempts at reaching a reasonable settlement agreement. We believe this intransigence underscores the fact that Messrs. Ashner and Witkoff's interests lie only with their own agenda, rather than the best interests of all NYRT stockholders.
The NYRT Board Is Committed to Maximizing Shareholder Value and Has Independently Taken Actions to Achieve that Objective
As evidenced by our recent announcements, the Board has independently taken a number of decisive actions to maximize and enhance value for our stockholders, many of which steps Messrs. Ashner and Witkoff have publicly supported. These actions include:
Announced a RFP for all interested, qualified parties to serve as the external manager for New York REIT;
Adopted a plan of liquidation and dissolution that provides for the sale of the Company's assets, and distribution of the net proceeds to the Company's stockholders, after which the Company will be dissolved;
Retained Spencer Stuart to commence a search for new independent members for our Board of Directors, as well as to vet Messrs. Ashner and Witkoff due to concern regarding their independence and ongoing conflicts of interests;
Amended its current credit facility to permit NYRT to adopt a plan of liquidation; and
Is in the process of putting in place a new financing which will provide additional financial flexibility to the Company enabling it to implement the plan of liquidation while achieving maximum value to stockholders.
Contrary to Messrs. Ashner and Witkoff's assertions, our recent RFP announcement was not suggested by WW Investors and, further, the plan of liquidation originated with the Board and not with WW Investors. Consistent with our commitment to maximizing value, the Board decided to pursue the RFP to obtain the best possible terms for the management of the Company.
Ashner and Witkoff Continue to Mislead Stockholders Regarding the Facts
Despite the misleading assertions by Messrs. Ashner and Witkoff, the Board is focused on maximizing value for all NYRT stockholders. We note that our recently filed a preliminary proxy statement relating to NYRT's plan of liquidation sets the record straight on many of the misleading statements made by Messrs. Ashner and Witkoff, and we encourage stockholders to review the document in detail.
Notably:
In the process described in our preliminary proxy statement filed with the U.S. Securities and Exchange Commission (the "SEC"), we performed a thorough review of strategic alternatives and the NYRT Board did not receive a firm and actionable offer that exceeded $11 per share from that process. To be clear, the NYRT Board received non-binding indications of interests and did not receive an actionable proposal to acquire NYRT for more than $11 per share. Importantly, the same party which has been described in NYRT's preliminary proxy statement as making a non-binding indication of interest in excess of $11 per share has been encouraged by this Board to make a firm offer even today, but a firm actionable proposal still has not been made.
Messrs. Ashner and Witkoff claim that they made a proposal to purchase NYRT shares that was "rejected out of hand by the Board." We note that the proposal was conditioned on WW Investors becoming the external advisor and property manager for NYRT, an important point that Messrs. Ashner and Witkoff conveniently did not disclose in their letter.
The plan of liquidation was developed by the Board in consultation with its financial and legal advisors, and did not originate with WW Investors.
Though Messrs. Ashner and Witkoff claim otherwise, throughout the discussions, the Board made every attempt to provide Messrs. Ashner and Witkoff with access to relevant Board committee members.
Given that Messrs. Ashner and Witkoff have asserted their interest in putting "an end to the needless waste of time and corporate resources," as stated in their letter, we urge them to come back to the table and reconsider the entirely reasonable terms of our proposal rather than continue their unproductive and contentious approach that relies on selective disclosure and manipulation of the facts, and appear to be focused on their own self-interests and not the interests of all NYRT shareholders.
Corporate News
,
Hedge Funds
,
Management Changes
Related Entities
Twitter
,
Definitive Agreement

Sign up for StreetInsider Free!
Receive full access to all new and archived articles, unlimited portfolio tracking, e-mail alerts, custom newswires and RSS feeds - and more!