Horizon Pharma (HZNP) Announces Presentation of Significant Retrospective KRYSTEXXA Data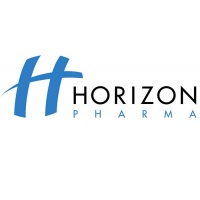 ---
Get the Pulse of the Market with StreetInsider.com's Pulse Picks. Get your Free Trial here.
---
Horizon Pharma plc (Nasdaq: HZNP) announced that a retrospective analysis of data from previous pivotal, randomized KRYSTEXXA (pegloticase) clinical trials demonstrate that refractory chronic gout patients defined as "non-responders" based on serum uric acid levels in the trials still achieved significant clinical benefit despite a loss of response in uric acid levels. These data (abstract 212) were presented during the American College of Rheumatology (ACR) and the Association of Rheumatology Health Professionals (ARHP) Annual Meeting in Washington D.C. on Sunday, November 13, 2016.
"In a recent survey of U.S. adults living with gout, nearly half said they could not imagine anything more painful than a gout flare, revealing a critical need for education and ongoing study of the available options for managing the condition," said Jeffrey W. Sherman, M.D., FACP, executive vice president, research and development and chief medical officer, Horizon Pharma plc. "Our clinical presence at the ACR meeting this year is the largest for KRYSTEXXA in three years and underscores our drive to expand awareness of this innovative treatment option for refractory chronic gout sufferers."
KRYSTEXXA is the first and only medicine approved by the U.S. Food and Drug Administration for the treatment of refractory chronic gout, which represents an orphan disease subset of the common form of gout. In general, gout is a type of chronic inflammatory arthritis where uric acid builds up in the blood and can lead to severe pain and joint destruction, as well as the manifestation of tophi, which are hard, uric acid deposits under the skin that contribute to bone and cartilage destruction. Patients with refractory chronic gout continue to have abnormally high levels of uric acid despite conventional therapies. Refractory chronic gout impacts an estimated 50,000 people in the United States.
"The pivotal clinical trials evaluating KRYSTEXXA provide a wealth of data for health care providers treating people living with refractory chronic gout," said Peter E. Lipsky, M.D., AMPEL BioSolutions, and one of the authors of the poster presentation. "A retrospective look at this data uncovered that patients defined as "non-responders" in the trial actually experienced significant clinical benefits from KRYSTEXXA, with a quarter of non-responders achieving complete tophus resolution at six months."
Summary of Results
Gout symptom improvements were greatest for responders, but also significant for non-responders.
25 percent of non-responders reported complete tophus resolution at six months.
Non-responders achieved a statistically significant decrease in gout flares at six months.
Non-responders reported improvements from baseline across several meaningful clinical endpoints including Patient Global Assessment, tender and swollen joints and pain.
No significant improvements were observed among patients who received placebo.
Across the pivotal clinical trials, the most common serious side effects in patients taking KRYSTEXXA were gout flare-ups or attacks, severe allergic reactions, and infusion reactions.
The FDA approval of KRYSTEXXA was based on positive results from two six-month, randomized clinical trials that used uric acid levels to define a "responder." The retrospective analysis presented at the ACR/ARHP annual meeting assessed the clinical efficacy before and after KRYSTEXXA treatment across four groups of clinical trial participants: 36 responders (uric acid levels less than 6.0 mg/dl for 80 percent of the time during extensive monitoring); 24 per-protocol non-responders (received all planned KRYSTEXXA infusions in the clinical trial and had mean uric acid levels greater than 6.0 mg/dl); 49 non-responders (both per-protocol non-responders and those who left the study before uric acid assessments at three and six months); and 43 patients who received placebo.
Responders exhibited mean reductions in uric acid levels to less than 0.5 mg/dL at three and six months. While both groups of non-responders had a transient decrease in uric acid levels that returned to a mean of greater than 6.0 mg/dL by seven weeks, results indicated that these patients had significant clinical benefit.
In addition to the retrospective analysis of the pivotal KRYSTEXXA clinical trials, another study (abstract 213) was presented evaluating methods for preventing infusion reactions. This was a retrospective review of KRYSTEXXA-treated gout patients since January 2012 who completed at least three infusions. The study compared two different corticosteroids used to prevent infusion reactions: methylprednisolone and hydrocortisone. Results indicate that methylprednisolone pre-infusion therapy may allow for longer KRYSTEXXA therapy duration compared with hydrocortisone. The poster presentation notes that "methylprednisolone use as compared to hydrocortisone for infusion prophylaxis needs further study to determine efficacy and long-term safety."
Corporate News
,
FDA
,
Management Comments
Related Entities
Twitter

Sign up for StreetInsider Free!
Receive full access to all new and archived articles, unlimited portfolio tracking, e-mail alerts, custom newswires and RSS feeds - and more!