Galena Biopharma (GALE) Announces Presentation of NeuVax Combo 2b Interim Safety Data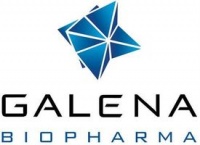 ---
Get inside Wall Street with StreetInsider Premium. Claim your 2-week free trial here.
---
Galena Biopharma, Inc. (Nasdaq: GALE) presented interim safety data from the Company's NeuVax™ (nelipepimut-S) Phase 2b combination study with trastuzumab at the European Society for Medical Oncology (ESMO) 2016 Congress in Copenhagen, Denmark. The clinical trial is a randomized, multicenter, investigator-sponsored, 300 patient Phase 2b study. It is currently enrolling HER2 1+ and 2+ node positive, and high-risk node negative patients to study NeuVax in combination with trastuzumab to prevent breast cancer recurrence.
Poster #1069P, entitled "Interim safety analysis of a phase II trial combining trastuzumab and NeuVax, a HER2-targeted peptide vaccine, to prevent breast cancer recurrence in HER2 low expression," demonstrated that this novel combination of trastuzumab and NeuVax in HER2 low-expressing (LE) patients is well-tolerated and the cardiac effects of trastuzumab are not impacted by the addition of NeuVax.
In March 2016, the 150th patient was randomized into the trial, triggering this pre-specified safety analysis (Vaccine Group (VG) n=81, Control Group (CG) n=69). There were no significant differences in treatment factors, but a significant difference in node positivity appreciated between the groups. The sponsor expects this randomization imbalance to equalize over the duration of the study. Cardiac ejection fraction (EF) was assessed at baseline and serially throughout treatment. The majority of toxicities were Grade 1 and 2, and there was no difference between treatment arms. There was no difference in EF over time (baseline (T0) to 6mo (T6)) between VG v CG (T0: 61.4+0.6%, T6: 60.5+0.9% v T0: 61.6+0.7%, T6: 60.7+1.0%, p=0.9). There was one CG patient who experienced a grade 3 cardiac adverse event, but their EF returned to baseline after discontinuation of trastuzumab.
"This pre-specified, interim safety analysis is crucial to this trial to ensure that the combination of NeuVax and trastuzumab is well-tolerated in patients, and importantly that it does not increase the cardio-toxicity effects known to be associated with trastuzumab," said Bijan Nejadnik, M.D., Executive Vice President and Chief Medical Officer. "There is a growing consensus that combination therapies may yield the greatest clinical benefit, and this Phase 2b trial remains ongoing with enrollment expected to complete by the end of this year. As a result, we expect to report our first interim efficacy and immunologic outcomes after 12 months of follow-up, currently expected at the end of 2017. We are grateful to Dr. George Peoples and his team who continue this groundbreaking work."
Disease-free, HLA-A2+, A3+, A24+, or A26+, HER2 LE breast cancer patients at high risk for recurrence were enrolled after standard of care treatment and randomized to vaccine group (VG) receiving trastuzumab and NeuVax or control group (CG) receiving trastuzumab and GM-CSF only. Trastuzumab dosing was 8mg/kg loading, then 6mg/kg every 3 weeks. Patients received 6 total inoculations of NeuVax or GM-CSF, one every 3 weeks starting with the third trastuzumab infusion, followed by four booster inoculations administered every 6 months. Demographic and safety data were collected and analyzed with appropriate statistical tests.
The poster presentation from the conference will be available on Galena's website here.Abstract #3981 can be found on the conference website here.
Corporate News
,
FDA
,
Management Comments

Sign up for StreetInsider Free!
Receive full access to all new and archived articles, unlimited portfolio tracking, e-mail alerts, custom newswires and RSS feeds - and more!