Galena Biopharma (GALE) Announces GALE-301 Folate Binding Protein Expression Data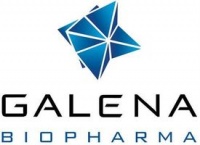 ---
News and research before you hear about it on CNBC and others. Claim your 2-week free trial to StreetInsider Premium here.
---
Galena Biopharma, Inc. (NASDAQ: GALE), a biopharmaceutical company committed to the development and commercialization of hematology and oncology therapeutics that address unmet medical needs, today announced data from the Company's GALE-301 Phase 1/2a clinical trial was presented at the CRI-CIMT-EATI-AACR International Cancer Immunotherapy Conference in New York, NY. The focus of the presentation was on the association between clinical outcomes and folate binding protein (FBP) expression. GALE-301 is administered with the adjuvant granulocyte macrophage-colony stimulating factor (GM-CSF) for the prevention of cancer recurrence in disease-free ovarian and endometrial cancer patients.
Poster #B007, entitled, "Improved disease-free survival in endometrial and ovarian cancer patients with low folate binding protein expression after treatment with the E39 peptide vaccine in a phase I/IIa trial," reported clinical outcomes based on FBP expression level. The data revealed a disease free survival (DFS) benefit in patients with low FBP expression (FBPlo), but not in patients with high FBP expression (FBPhi).
"The results presented today are quite informative to our program as little is known about the effects of FBP expression levels on FBP-directed therapies, including the GALE-301 (E39) vaccine," said Bijan Nejadnik, M.D., Executive Vice President and Chief Medical Officer. "The fact that the low expressors appeared to show a better DFS benefit may be due to immunotolerance from significantly higher endogenous exposure to the FBP antigen. This is also something we explored with our GALE-302, or attenuated version, of the peptide. These findings warrant further study as they may help inform the design and target patient populations for the next clinical trial for our folate binding protein development programs."
Thirty-eight enrolled patients underwent FBP expression testing, and there were no clinicopathologic differences between the vaccine group (VG n=18) and the control group (CG n=20) or within FBPhi (VG n=10; CG n=9) and FBPlo (VG n=8; CG n=11;) (p≥0.1). There were significantly more primary tumors in FBPlo vs. FBPhi (p=0.027) and median follow up for the study was 16.3 months. While there was no significant difference in overall DFS between the CG and the VG (34.6% vs. 34.6%, p=0.208), in FBPlo patients, there was improved DFS in the VG at 85.7% vs. the CG at 17.5% (p=0.01). There was no such difference in FBPhi patients (VG 13.9% vs. CG 44.4%, p=0.83). Though groups were small, there was a dose-dependent effect in the FBPlo patients receiving 1000mcg (n=4) having improved DFS compared to the <1000mcg patients (n=4) and the CG (n=3) (100% vs. 66.7% vs.17.5%, respectively, p=0.03). Comparing FBPlo and FBPhi patients in the VG, the FBPlo patients had improved DFS (85.7% vs. 13.9%, p=0.052). In the CG, FBPlo patients did worse (17.5% vs. 44.4% in FBPhi, p=0.371).
Disease-free, HLA-A2-positve patients were vaccinated, while HLA-A2-negative patients were followed as untreated controls. The vaccine group received six monthly inoculations of GALE-301+GM-CSF, including either 100, 500, or 1000 mcg of peptide and 250mcg of GM-CSF. FBP expression testing was performed by immunohistochemistry and the results were graded 0-4+ based on the percentage of positively staining cells. Patient's tumors were then categorized as FBPlo if scored 0-1+ or FBPhi if 2-4+. The patients were monitored for evidence of clinical recurrence through the standard of care follow-up by their treating oncology team. Demographics, FBP expression, and DFS were analyzed using appropriate statistical tests.
The poster presentation from the conference will be available on Galena's website here.
Corporate News
,
FDA
,
Management Comments

Sign up for StreetInsider Free!
Receive full access to all new and archived articles, unlimited portfolio tracking, e-mail alerts, custom newswires and RSS feeds - and more!