Celldex (CLDX) Announces Glembatumumab Vedotin Phase 2 Met Primary Objective in c/r Metastatic Melanoma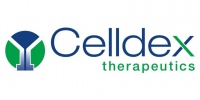 Price: $3.41

+2.10%
Overall Analyst Rating:
BUY
(
Down)
---
Get instant alerts when news breaks on your stocks. Claim your 2-week free trial to StreetInsider Premium here.
---
Celldex Therapeutics, Inc. (Nasdaq: CLDX) presented positive results from the Company's Phase 2 study of glembatumumab vedotin in patients with stage III/IV checkpoint inhibitor-refractory, and, if applicable, BRAF/MEK inhibitor-refractory metastatic melanoma (n=62). Glembatumumab vedotin is a fully-human monoclonal antibody-drug conjugate (ADC) that targets glycoprotein NMB (gpNMB), a protein overexpressed by multiple tumor types, including metastatic melanoma where greater than 80% of patients overexpress the marker. High tumor expression of gpNMB is associated with shorter metastasis-free survival and reduced overall survival.1 Study results were presented today at the ESMO 2016 Congress in Copenhagen in poster titled "A Phase 2 study of glembatumumab vedotin (GV), an antibody-drug conjugate (ADC) targeting gpNMB, in advanced melanoma."
Study Highlights
The primary endpoint of the study (6 or more objective responses in the first 52 patients enrolled) was exceeded. 7 of 62 (11%) patients experienced a confirmed response, and an additional 3 patients also experienced single timepoint responses.
Median duration of response in this heavily pre-treated patient population was 6.0 months.
53% of patients experienced stable disease (with a minimum duration of six weeks).
A 52% disease control rate (patients without progression for greater than three months) was demonstrated.
52% of patients experienced tumor shrinkage.
Median progression-free survival (PFS) for all patients was 4.4 months.
Patients who experienced rash in Cycle 1 experienced a 20% confirmed response rate and a more prolonged PFS of 5.5 months [p=0.054; HR=0.52 (0.27, 1.02)].
"While immune checkpoint inhibitors and BRAF targeted therapy have dramatically changed outcomes for many patients with metastatic melanoma, patients who either do not respond or progress through these treatments are faced with very limited treatment options," said Patrick Ott, M.D., Ph.D., Clinical Director of the Melanoma Center and the Center for Immuno-Oncology at Dana-Farber Cancer Institute and an investigator in the study. "The single-agent activity observed in this study and the corresponding duration of response is highly encouraging. I am hopeful that pursuing combination studies of glembatumumab vedotin, including with checkpoint inhibition, could help us bring benefit to an even larger number of melanoma and other cancer patients."
"It's clear based on these study results that refractory metastatic melanoma is a responsive target indication for glembatumumab vedotin," said Thomas Davis, M.D., Executive Vice President and Chief Medical Officer of Celldex Therapeutics. "gpNMB is very highly expressed in melanoma with all tissue samples on study testing positive, and almost 80% of tumors demonstrating 100% expression in their epithelial cells. We're encouraged by the results we've seen to date in this advanced, checkpoint refractory setting and believe leveraging the immune system through combination therapy is a critical next step for patients in in this indication."
Study Overview
This study was a Phase 2, open-label study of glembatumumab vedotin in patients with unresectable stage III (n=1; 2%) or stage IV (n=61; 98%) melanoma. The median number of prior therapies was three (range of 1 to 6). All patients had progressed after checkpoint therapy, and almost all patients had received both ipilimumab (n=58; 94%) and PD-1/PDL-1 (n=58; 94%) therapy. Twelve patients presented with BRAF mutation, and eleven had prior treatment with BRAF or BRAF/MEK targeted agents. Patients received glembatumumab vedotin every three weeks until disease progression or intolerance. The safety profile was consistent with prior studies of glembatumumab vedotin with rash, neutropenia, and neuropathy experienced as the most significant adverse events. Consistent with previous studies in melanoma and breast cancer, rash was associated with greater clinical benefit.
Clinical Efficacy
Primary Endpoint: Confirmed Response Rate (ORR) Met
7/62 (11%)
Duration of Response
Median: 6.0 months Range: 1.4 + to 8.6+
Any Response, Including Those not Confirmed at Subsequent Assessment
10/62 (16%)
Stable Disease
33/62 (53%)
Disease Control Rate
32/62 (52%)
Patients with Tumor Shrinkage
32/62 (52%)
Progression-free Survival
Median: 4.4 monthsRange: 0.4 to 15.8+
Tumor tissue (pre-treatment) was available for 58 patients at the time of analysis. All samples were gpNMB positive, and 79% of patients had tumors with 100% of their epithelial cells expressing gpNMB. Given both the high level of expression and the intensity of expression across this patient population, identifying a potential population for gpNMB enrichment is not feasible; therefore, all patients with metastatic melanoma could be evaluated as potential candidates for treatment with glembatumumab vedotin in future studies.
Next Steps
In August 2016, the Company announced that the primary endpoint had been met in this Phase 2 single-agent study of glembatumumab vedotin in metastatic melanoma (post-progression on/after checkpoint therapy) and that the Company was amending the protocol to add a second cohort of patients to a glembatumumab vedotin and varlilumab combination. Varlilumab is Celldex's fully human monoclonal agonist antibody that binds and activates CD27, a critical co-stimulatory molecule in the immune activation cascade. This additional cohort is open to enrollment. Upon completion of enrollment in this cohort, the Company is exploring opening a new arm in the study to assess a glembatumumab vedotin and checkpoint combination. This rationale is strongly supported by preclinical data that suggest that the anti-tumor activity may be enhanced with the combination. In addition, due to their direct cytotoxic properties, microtubule-depolymerizing agents like MMAE also appear to convert tumor-resident tolerogenic dendritic cells into active antigen-presenting cells.2 The Company also intends to conduct exploratory analyses of pre-entry skin biopsies in future patients to investigate potential predictors of response to glembatumumab vedotin, given the association of rash and outcome.
About Glembatumumab Vedotin
Glembatumumab vedotin is a fully-human monoclonal antibody-drug conjugate (ADC) that targets glycoprotein NMB (gpNMB). gpNMB is a protein overexpressed by multiple tumor types, including breast cancer, melanoma, lung cancer, uveal melanoma and osteosarcoma. gpNMB has been shown to be associated with the ability of the cancer cell to invade and metastasize and to correlate with reduced time to progression and survival in breast cancer. The gpNMB-targeting antibody, CR011, is linked to a potent cytotoxic, monomethyl auristatin E (MMAE), using Seattle Genetics' proprietary technology. Glembatumumab vedotin is designed to be stable in the bloodstream but to release MMAE upon internalization into gpNMB-expressing tumor cells, resulting in a targeted cell-killing effect. Glembatumumab vedotin is in development for the treatment of locally advanced or metastatic breast cancer with an initial focus in triple negative disease, stage III and IV melanoma, squamous cell lung cancer, uveal melanoma and osteosarcoma.
Corporate News
,
FDA
,
Hot Corp. News
,
Management Comments

Sign up for StreetInsider Free!
Receive full access to all new and archived articles, unlimited portfolio tracking, e-mail alerts, custom newswires and RSS feeds - and more!